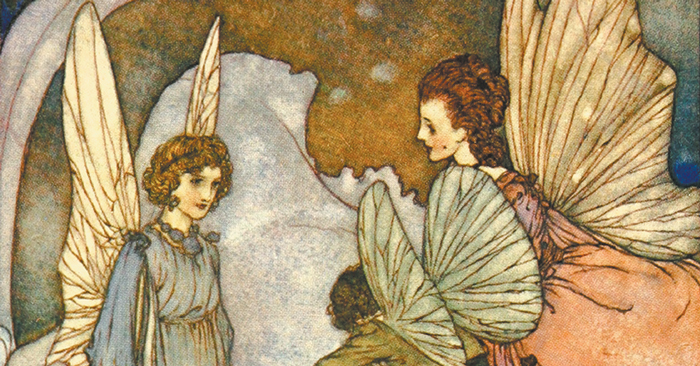 To celebrate Fairy Day, we would like to share with you some of the most beautiful fairy books, full of fae, piskies, nymphs, and sprites to enchant any reader. From children's stories and fairy tales to several of the greatest literary works, these magical beings are at the heart of many of our most beloved tales and have been captivating imaginations for centuries.
History of Fairies
For hundreds of years, fairies have existed in different forms in many cultures around the globe. Dating back to Greek mythology, nymphs are the earliest version of fairies in recorded history. They were deities described as personifications of nature in beautiful feminine forms. Thirteenth-century English folklore saw fairies take on the appearance that we commonly associate them with today: tiny human-like creatures, most often with wings.
In multiple European folktales, fairies are described as supernatural or metaphysical beings. They commonly appear as tiny mythical spirits that coexist in our world but are ruled by different laws. They could be good or evil but are usually coupled with mischief and trickery. For example, will-o'-the-wisps are known to draw travellers off their path, and illnesses were often blamed on the fae prior to modern medicine.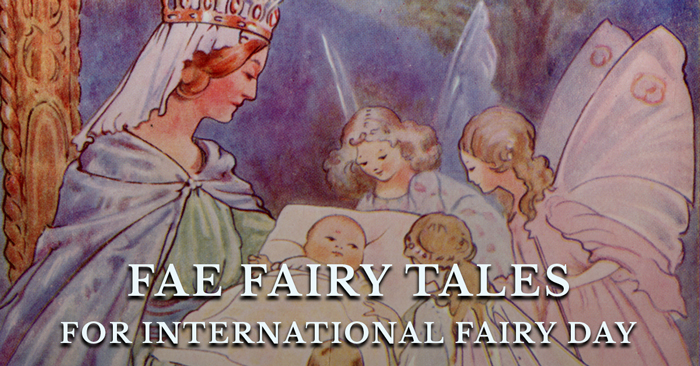 The term 'fairy' incapsulates many members of the fae family, including goblins, gnomes, and elves, and different religions and cultures interpret fairies in various ways. Selkies are also fae according to Norse and Celtic mythology, the mysterious beings inhabit the sea and are similar to seals in appearance, but can transform themselves into women. Irish folktales tell of departed spirits who have found new life amongst the fae, and the Christian belief often denotes the fae as demoted angels. Pagan tradition is closer to the original Greek mythological presentation of fairies as spirits of nature.
In Irish folklore, on Fairy Day naughty fae creep into the human world and wreak havoc. It's said that those who are travelling on this day should wear their coat inside out so that the fairies will be confused, and they will be protected from any trickery. Tradition also includes leaving tea and bread on your doorstep as offerings for the fairies so they won't steal away your children.
So, boil the kettle and pop a fresh loaf outside your door before selecting one of our beautiful fairy books and curling up to enjoy a magical tale of mischief…
Our Top Beautiful Fairy Books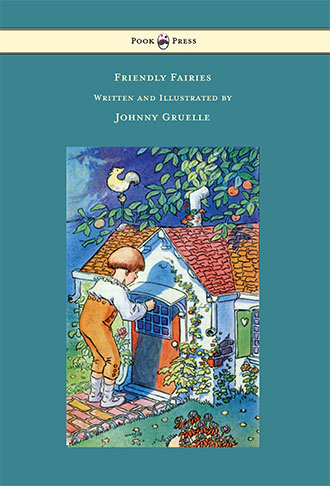 The first of our beautiful fairy books is Johnny Gruelle's collection of entertaining and magical stories are entertaining. Every one of the fifteen tales in this volume is unique and provides a moral lesson for every young reader, with Gruelle's beautiful colour illustrations bringing his thoughtful words to life. The stories include: 'The Three Little Gnomes', 'Mr and Mrs Thumbkins', 'The Wishbone', 'Tim Tim TamyTam', and 'A Change of Coats'.
Illustrated and written by American artist, Johnny Gruelle.
Featured illustrations: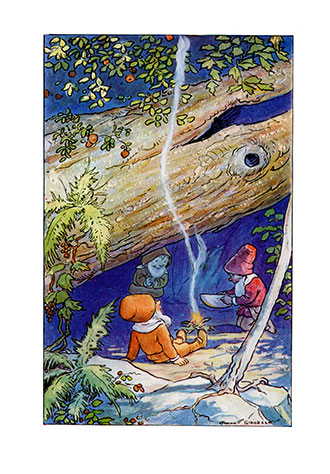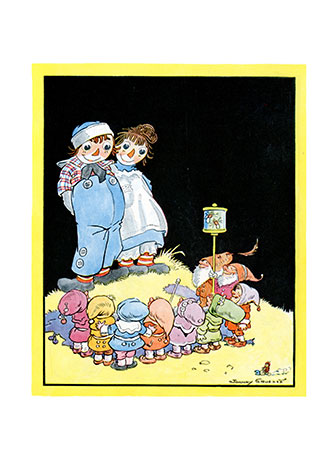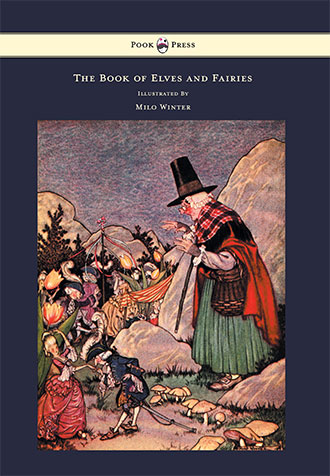 This book is a treasure trove of almost 50 wonderful fables. Collated from the farthest corners of Scotland, Ireland, Sweden and China, these magical stories tell of fairy spirits and elfin beings all over the world. The volume is retold by French/American children's writer, Frances Jenkins Olcott.
This collection of tales is accompanied by the incredible work of Golden Age Illustrator, Milo Winter.
Featured illustrations: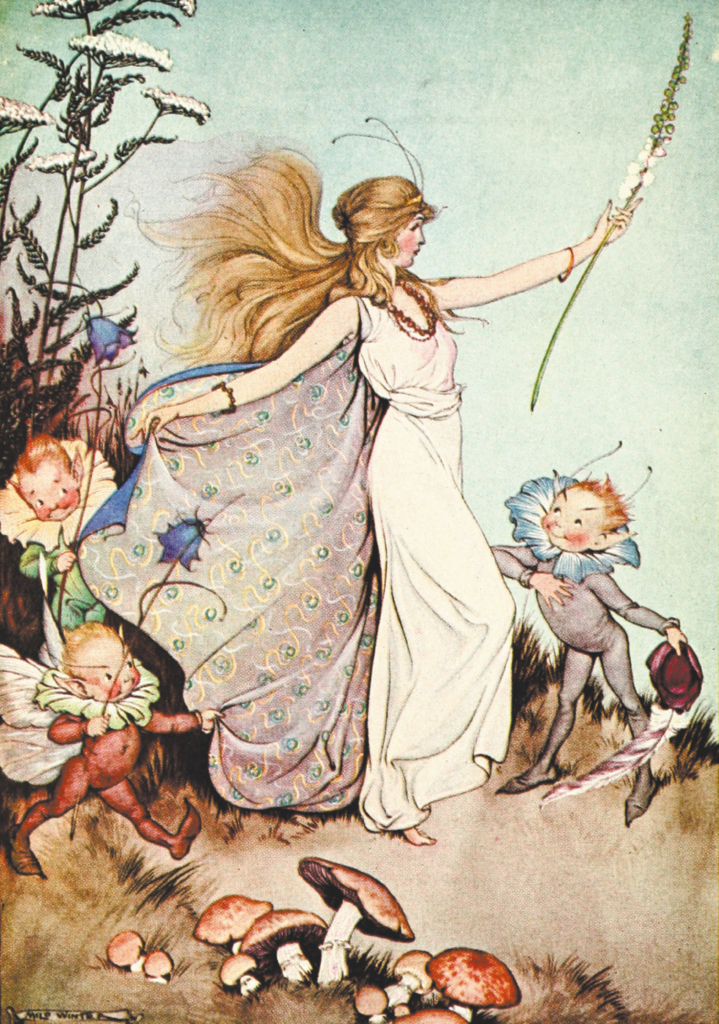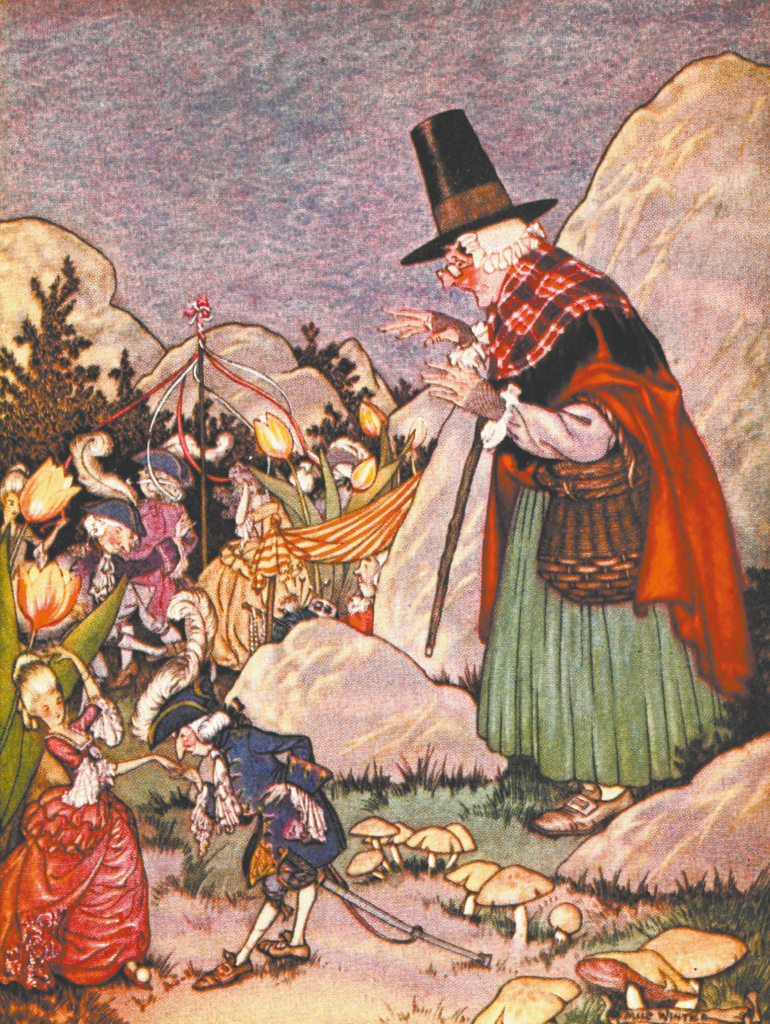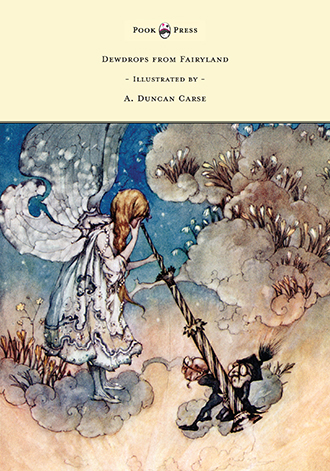 Perfect for bedtime reading, this book was written by Lucy M. Scott when she was only nine years old. Her parents clarify that the young author wrote the beautiful stories completely by herself at the beginning of the volume, making it a magical volume for young readers. The fairy tales in this volume include: 'Silver Wings', 'The Last Bee of Summer', 'The Witch and the Goblin', 'When the Sun and Moon Met', and 'The First Rose Beetle'.
A. Duncan Carse's gorgeous colour illustrations highlight the magic of these stories.
Featured illustrations: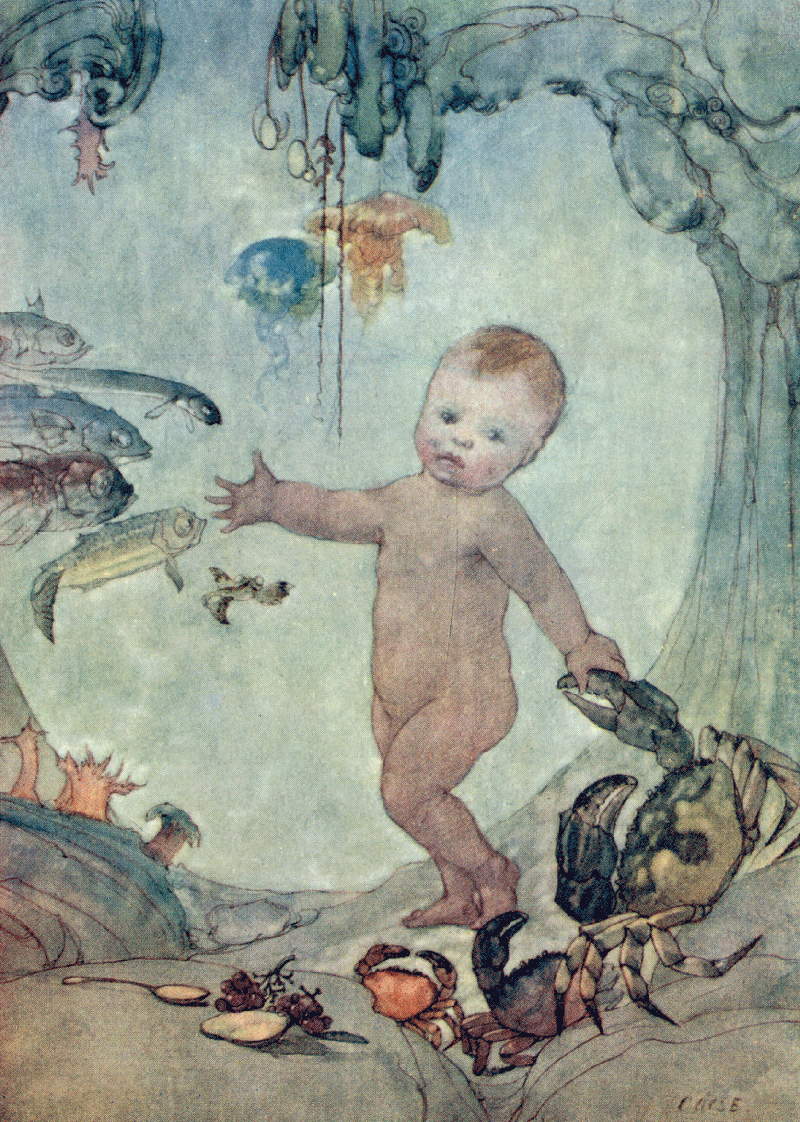 .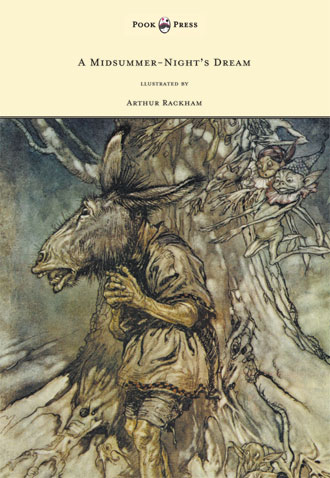 Shakespeare's classic comedy is one of his most-popular plays worldwide and is brimming with fairy magic and mischief. Taking place on the Summer Solstice, the fairy kingdom and the human world collide, resulting in hilarious mistakes and love-torn misunderstandings.
Arthur Rackham's richly-detailed illustrations accompany the comedic yet delicately romantic comedy.
Featured illustrations: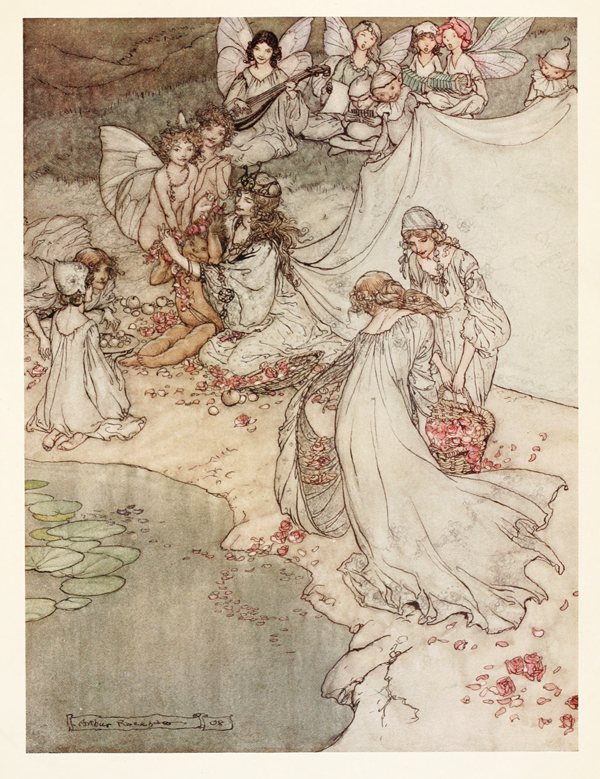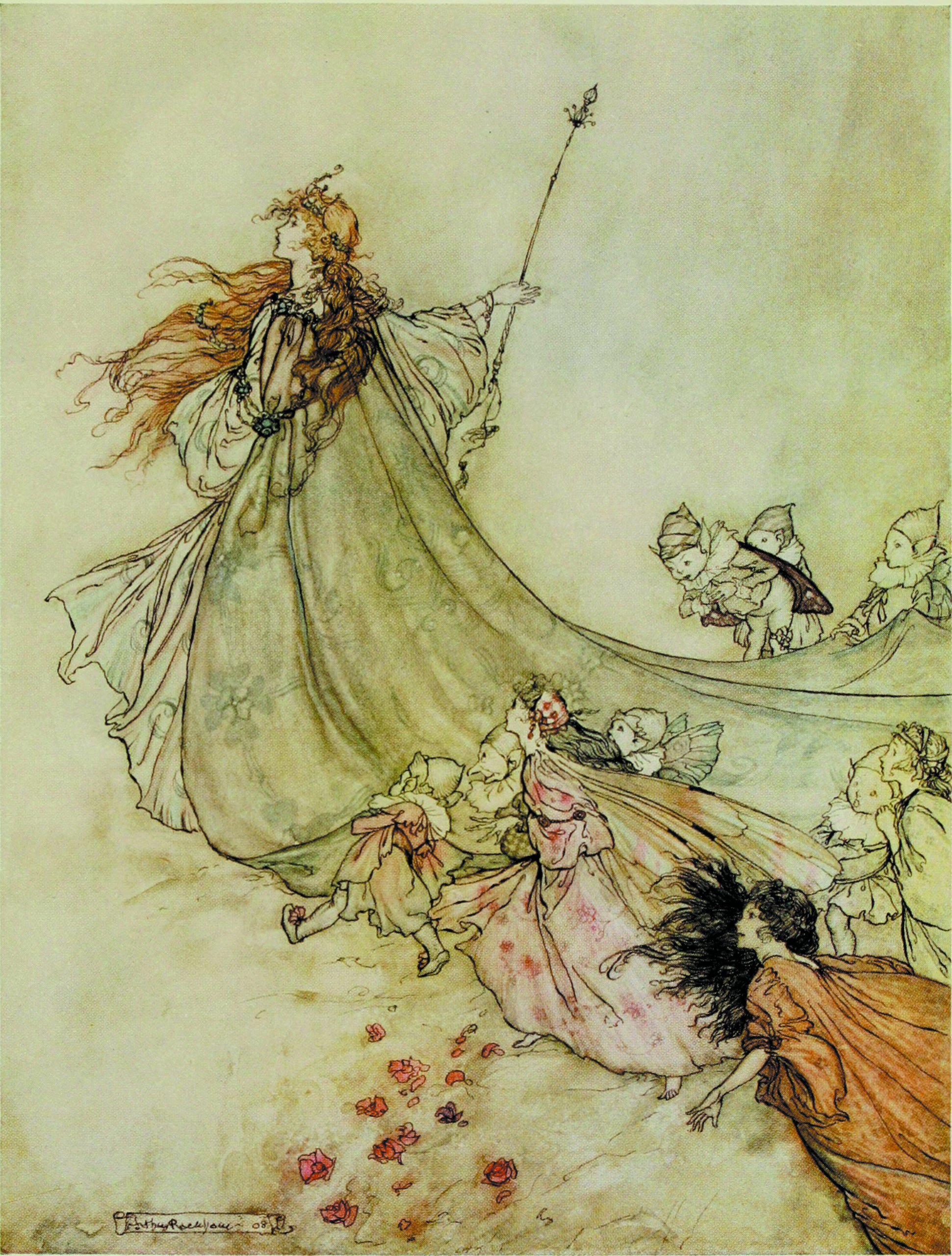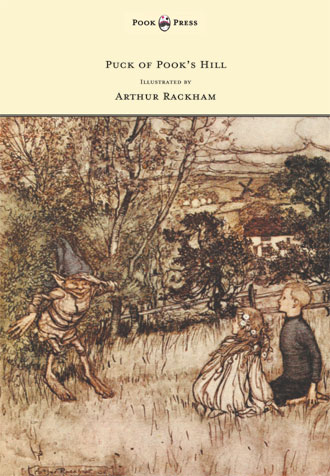 Shakespeare's well-known character of Puck is borrowed from A Midsummer Night's Dream in this collection of whimsical fairy stories. From Rudyard Kipling, the beloved author of The Jungle Book, this volume contains a series of fantasy stories mostly narrated by the mystical elf, Puck. Kipling's charming poetic prose takes the reader through various periods of English history and is filled with magic.
The wonderful stories are imagined in full colour by prolific illustrator Arthur Rackham as he brings the enchanting characters to life.
Featured illustrations: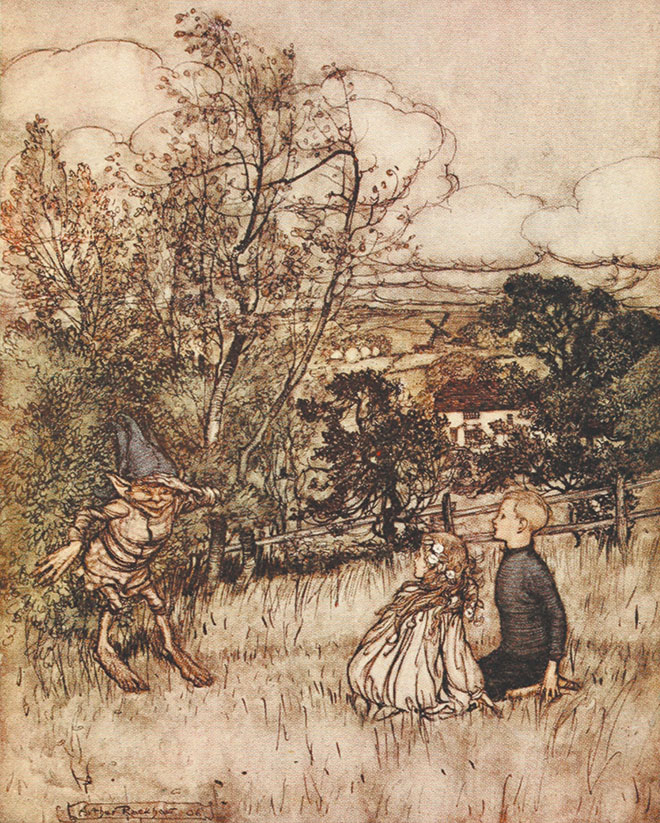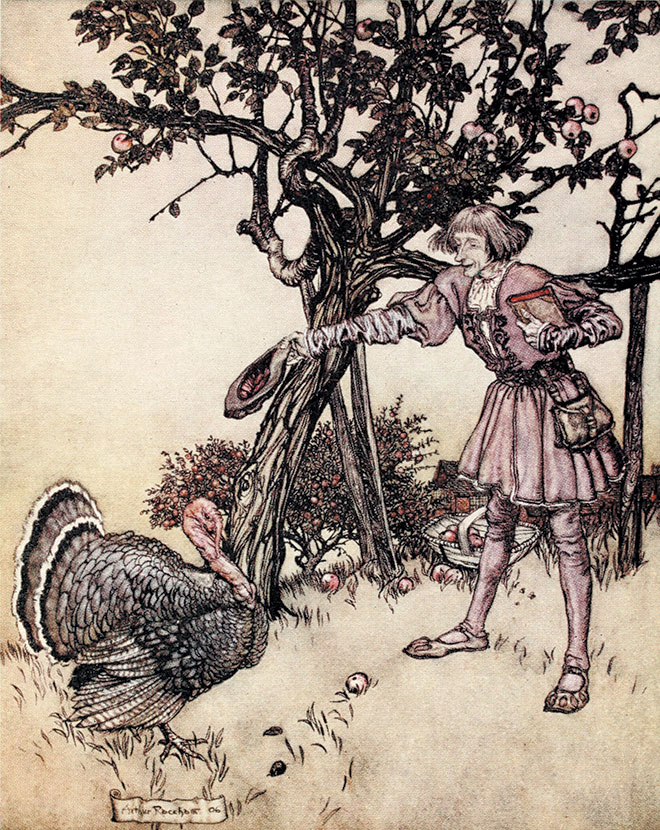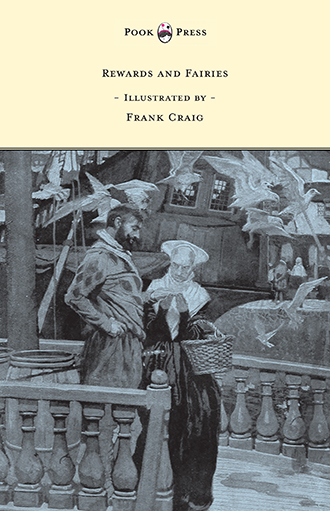 Kipling also wrote a sequel to his historical-fiction collection. Rooted in the same magic and featuring the same mischievous elf, Rewards and Fairies is set in the author's own former house in Sussex. In a similar storyline to Puck of Pook's Hill, two children stumble across Puck who demonstrates the power of his magic by pulling both real and fictional historical figures from the past so they can impart their knowledge to the children.
A charming volume, beautifully illustrated by Frank Craig in a delicate black and white.
Featured illustrations: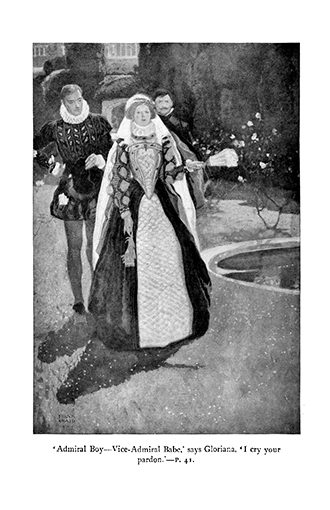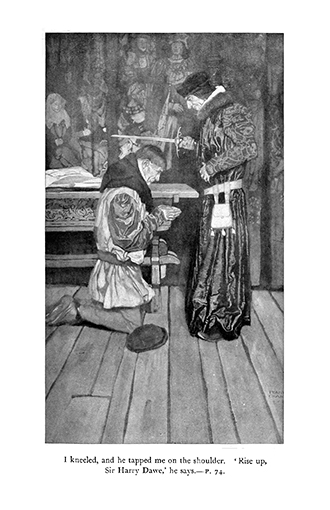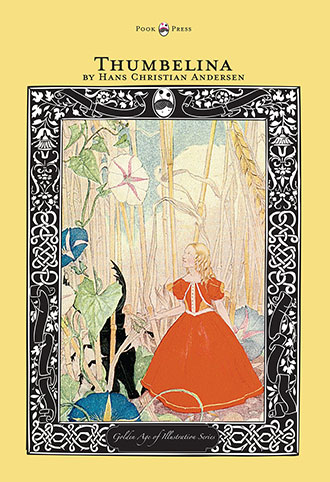 .
This classic Danish fairy tale features a girl who is no bigger than a thumb. Hans Christian Andersen narrates the story as Thumbelina is kidnapped in her walnut-shell bed by a wicked toad who wants the fairy-sized girl to marry her son. She is forced into a myriad of adventures where she encounters many small animals and insects. Although Thumbelina is not a fairy herself, she feels most at home when with fae folk and eventually marries a fairy prince who is just her size.
This volume is part of Pook Press' Golden Age of Illustration series and features many gorgeous artworks from illustrators including Arthur Rackham, Harry Clarke, Milo Winter, and W. Heath Robinson.
Featured illustrations: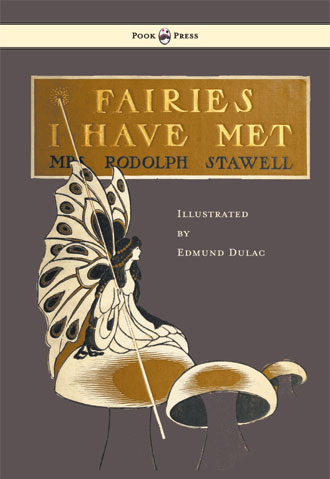 This charming collection of fairy tales was originally written by Mrs Rodolph Stawell and published in 1907. The stories are dedicated to a young girl named Penelope, 'so that she may love the fairies, and keep the sunbeam always in her heart.' The volume includes stories such as 'The Cloud that had no Lining', 'A Little Girl in a Book', 'The Box of Dreams', and 'The Fairy Who had only one Wing'.
This sweet volume is magically brought to life by the stunning colour illustrations by Edmund Dulac.
Featured illustrations: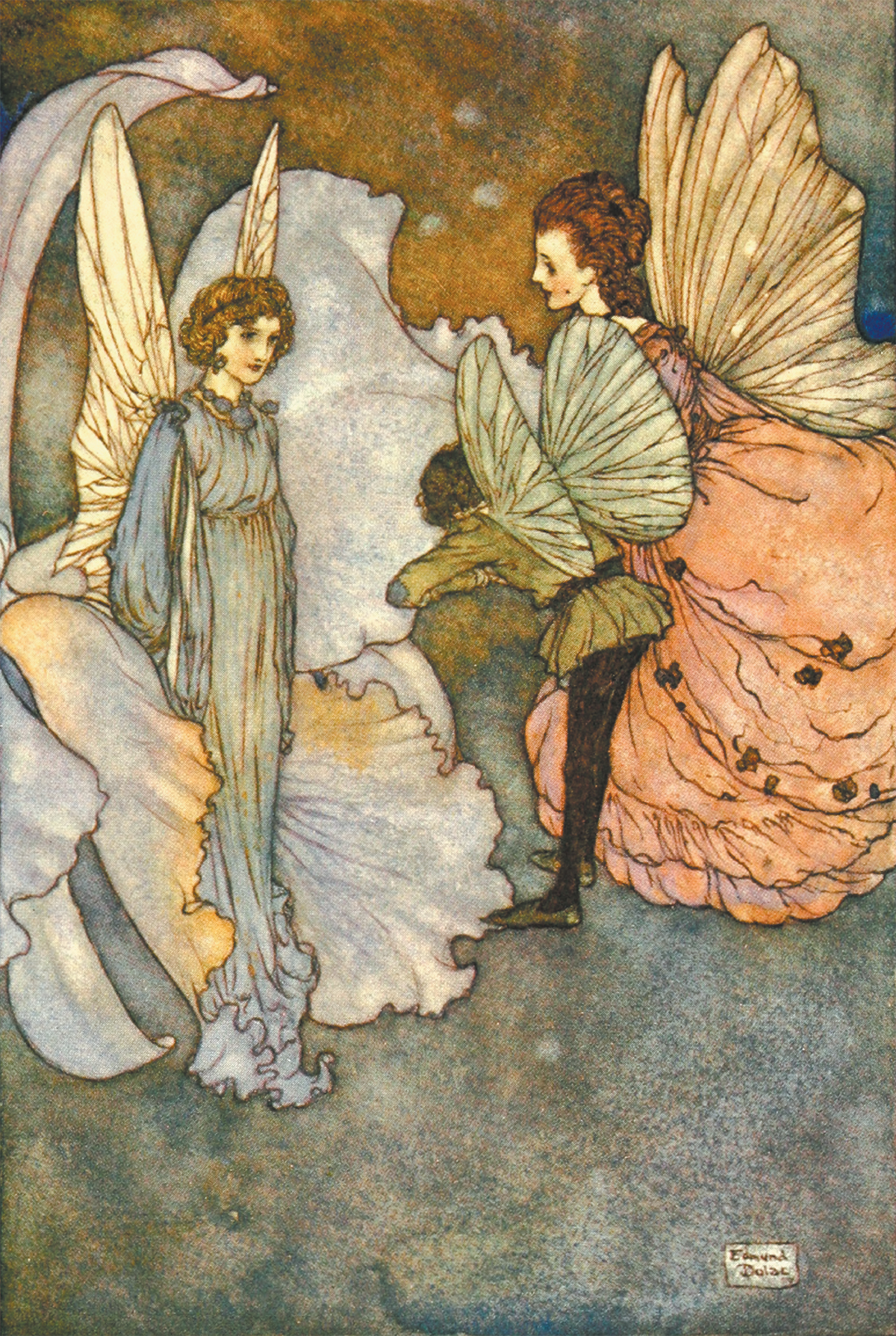 .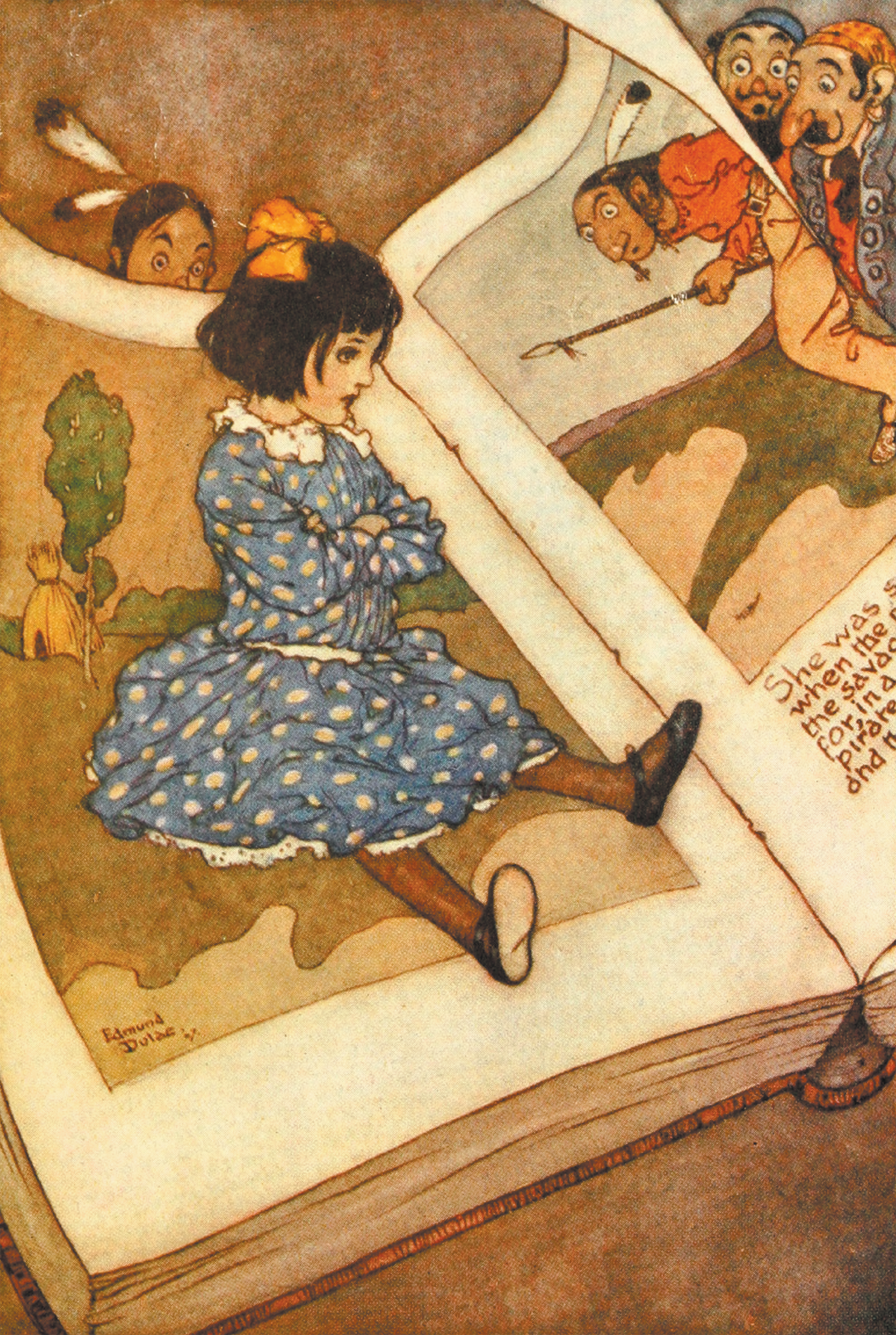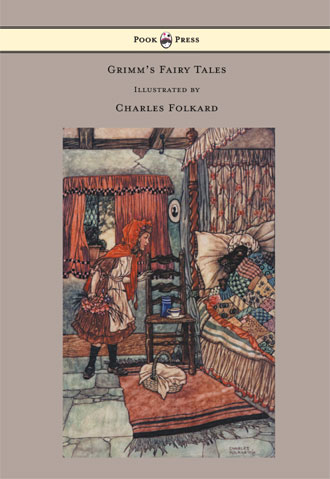 This cornucopia of the Brothers Grimm fairy tales includes classic stories that are famous around the world, such as 'Hansel and Gretel', 'Snow White', 'The Frog Prince', and 'Rumpelstiltskin'. This volume also features wonderful stories centred around the magic and mischief of the fae folk. From stories like 'The Water Fairy' to 'The Elves and the Cobbler', these tales celebrate the wonder of these mythical beings.
The last of our beautiful fairy books features enchanting black-and-white illustrations by Louis Rhead.
Featured illustrations: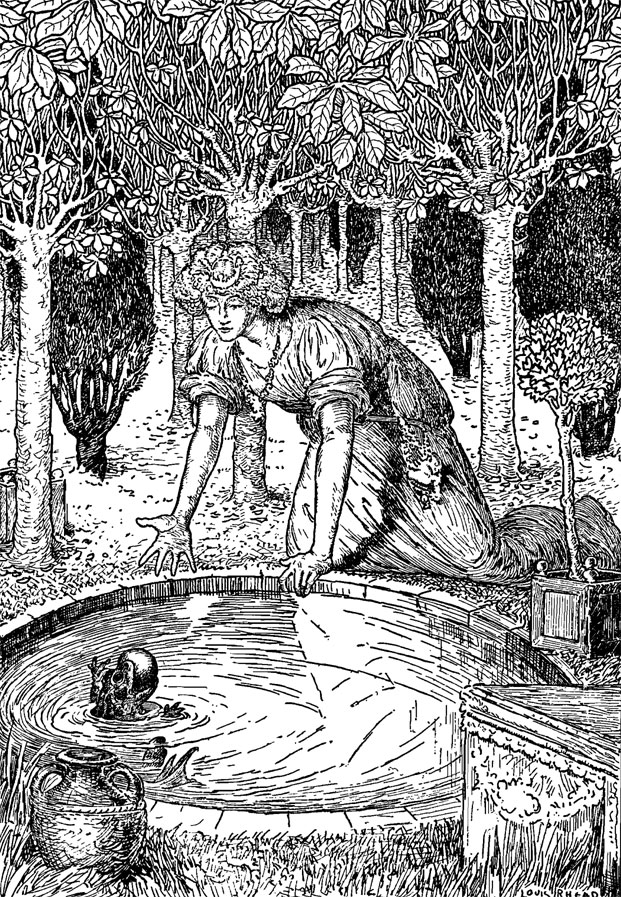 We hope that you enjoy these beautiful fairy books and fae-inspired tales. Be sure to keep a lookout for any tiny mischief-makers this #InternationalFairyDay. If you're looking for more classic tales, there is lots of magic to discover in our bookshop and online fairy tale library.