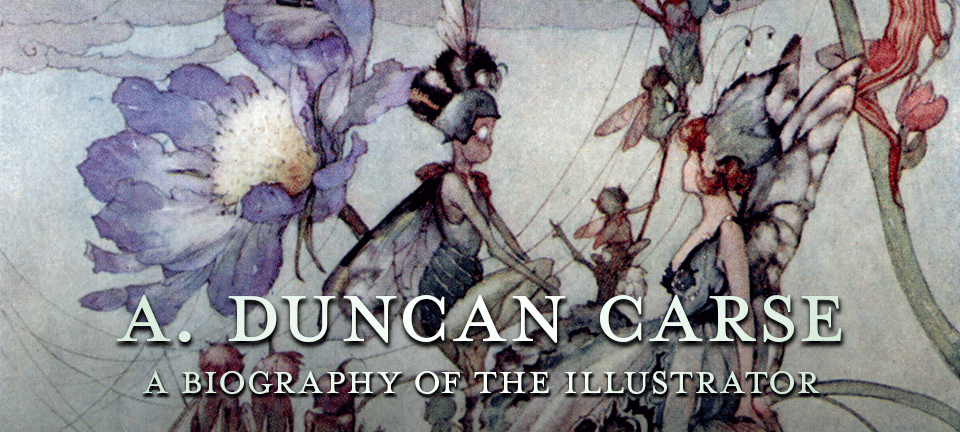 A. Duncan Carse
---
Andreas Duncan Carse was born in 1876 to parents of Scottish and Swedish descent. Not much is known about his upbringing and life in general aside from the fact that he was an accomplished artist and illustrator whose work has been enjoyed by generations.
He provided the illustrations for Lucy M. Scott's Dewdrops from Fairyland (1912), a collection of short stories originally entitled Entirely Unaided that was remarkably written by the author when she was just nine years old.
SELECTED BOOKS
---
Carse also notably illustrated the 1912 addition of Hans Christian Andersen's Fairy Tales, a collection of over 200 stories that has been translated into more than 125 language since it's first publication. Despite being a prolific writer of plays, novels, travelogues, and poems, it was for the writing of this book that Andersen was most famous. It went through many editions over the years and, and is renowned for the variety of illustrators who have brought its stories to life over the years. Carse's contributions to Fairy Tales arguably solidified his reputation as an accomplished illustrator of children's books.
Carse is known to have exhibited his beautiful artwork at numerous events and locations, beginning with an exhibition at the Royal Academy in 1904. He exhibited under the auspices of the British Council at Biennale in 1912, and began displaying his work regularly at the Royal Academy between 1922 and 1938. the Fine Art Society, the London Salon and the Walker Art Gallery in Liverpool are all other locations known to have played host to Carse's work.
Besides canvases and the pages of children's books, Carse's work has adorned a variety of other surfaces. He designed paintings for the ceiling of the Detroit Athletic Club and, in 1933, his works Birds of the Old World and Birds of the New World were used by Cunard to decorate the dining rooms of its flagship liner, The Queen Mary.
Andreas Duncan Carse, father of the famous British explorer Duncan Carse, passed away in 1938.
SELECTED BOOKS
---