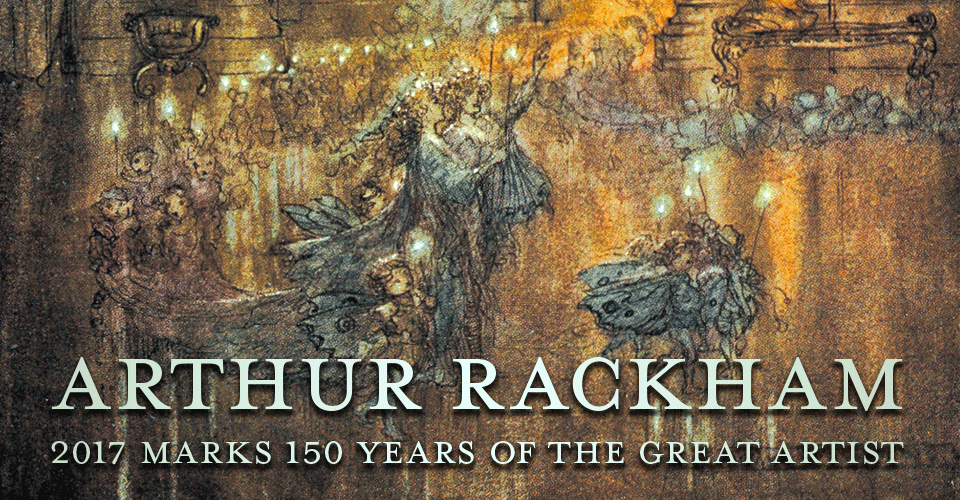 Arthur Rackham
19th September 1867 – 6th September 1939
---
Arthur Rackham was one of the most celebrated artists of the British Golden Age of Illustration; an artist who still delights both young and old over a century later.

Arthur Rackham Biography
---
Arthur Rackham (19th September 1867 – 6th September 1939) was one of the most celebrated artists of the British Golden Age of Illustration; an artist who still delights both young and old over a century later.
Rackham was born in London as one of twelve siblings, the third surviving child of Annie and Alfred Rackham.  After a brief sojourn in Australia due to poor health, he spent his early education at the prestigious City of London School. Rackham won a couple of prizes for drawing during his school days, but showed little of the imaginative genius which marked his adult artwork.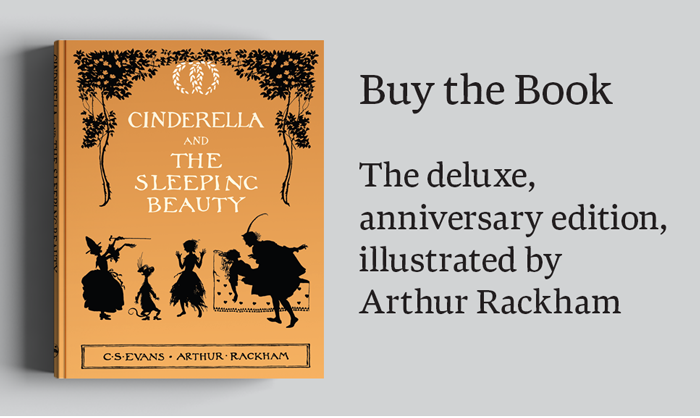 Immediately after leaving school, Rackham started work as a clerk at the Westminster Fire Office which financed his burgeoning artistic studies at the Lambeth School of Art. By 1892 however, Rackham began reporting and illustrating for a number of London newspapers; 'distasteful hack work' as he described it.  During this period Rackham contributed occasional illustrations to magazines such as Scraps and Chums, efforts decidedly indicative of an artist in search of a style.  His first book illustrations were for To the Other Side, a travel guide and now particularly rare book, and the Dolly Dialogues; published in 1893 and 1894 respectively.
These publications marked the beginning of Arthur Rackham's long and illustrious career…
The first book illustrated specifically on commission was The Zankiwank and the Bletherwitch (1896), which marked the flowering of Rackham's lighter side.  Whilst not the fantastical work of Rackham's later career, it presages the exuberant frivolity which was to become a significant element of his work.
The real turning point came in 1900 however, when Rackham met the portrait painter Edith Starkie.  She was to be 'his most stimulating, severest critic' and future wife.  Starkie helped Rackham expand his artistic range; moving away from simpler techniques of pure line drawing, towards intricate washes of colour.
This shift could not have come at a more fortuitous moment, as technological advances in the printing process meant that Rackham's images could be photo-mechanically reproduced, thus removing the traditional middle-man of the engraver. This allowed Rackham to display his talent for line as well as his expert appreciation of the three-colour printing process; producing the luxurious colours and lavish details which made his reputation.  The images were then pasted ('tipped in') after the final book was printed, and whilst this was quite an expensive process, the results helped create the new 'gift book' market.
The first widely distributed 'gift book' was Rip van Winkle, published in 1905.  It contained fifty-one colour plates – all drawn by Arthur Rackham, firmly establishing him as the 'leading decorative illustrator of the Edwardian period.' Rackham created each plate by first painstakingly drawing his subject in a sinuous pencil line before applying an ink layer. He then used layer upon layer of delicate watercolours, reminiscent of the Art Nouveaux style, to build up the romantic yet calmly ethereal results on which his reputation was constructed. Most recognisable, in retrospect, is the good natured calmness of the drawings, conveying a non-threatening yet exciting thrill to their audience. Another practice established with Rip Van Winkle was for Rackham to promote each book with an exhibition at the Leicester Galleries in London.  J.M Barrie attended this display, and was so impressed by Rackham's work that he asked him to illustrate Peter Pan in Kensington Gardens.
This was to be Rackham's next commercial success, becoming the 'outstanding Christmas gift-book of 1906' and of course, one of the most beloved children's books of all time.  He followed it up with Alice's Adventures in Wonderland in 1907. By this point Rackham was at his artistic peak, offered so many commissions that he frequently had to decline.  The decision he most regretted was failing to illustrate the first edition of Kenneth Grahame's classic story, the Wind in the Willows, turned down in order to complete A Midsummer Night's Dream.
The Shakespearean drawings were a great accomplishment though. Published in 1908, the 'Arthur Rackham Fairies' are some of his best-known work, with his 'gnarled trees and droves of fairies… representing the visual reality of the Dream for thousands of readers.'  This publication was followed in rapid succession by three other books for adults; Undine (1909) The Rhinegold and the Valkyrie (1910) and Siegfried and the Twilight of the Gods (1911).  Many suggest that Rackham's finest illustrations can be found in these dramas.
After the First World War, Rackham started producing work for the American market, illustrating a variety of books including, Where the Blue Begins by Christopher Morley (1925), Washington Irving's The Legend of Sleepy Hollow (1928), and Edgar Allan Poe's Tales of Mystery and Imagination (1935).
In his last decade, Rackham's career continued to be productive, but his greatest triumph came in 1936. After Rackham had unfortunately declined to illustrate The Wind in the Willows, he was given a final chance in his twilight years.  Taking up the offer with relish, Rackham experienced great difficulty in completing the work; exhausted and in failing health,  he insisted that every detail must be right, down to the last oars in Rattie's boat.  With great labour he worked and reworked the drawings to his eventual satisfaction.  The end result was a masterpiece of children's illustration and a beautiful reminder of the innocence and sensibilities of the Victorian age.
Rackham died from cancer in 1939 at his home in Limpsfield, Surrey.
He has become one of the best known and loved English illustrators, and the fact that his drawings are so avidly sought after today is a testament to his utmost skill and artistic imagination.  As described by James Hamilton in a recent biographical study;
He was – and remains – a soloist in front of an orchestra, a player with the responsibility to interpret and add a personal lustre to great works with variations of infinite subtlety and grace.'
Rackham's illustrations to the classic tale, Undine, by Friedrich de la Motte Fouqué, were published as a First Edition by William Heinemann (London) in 1909.
---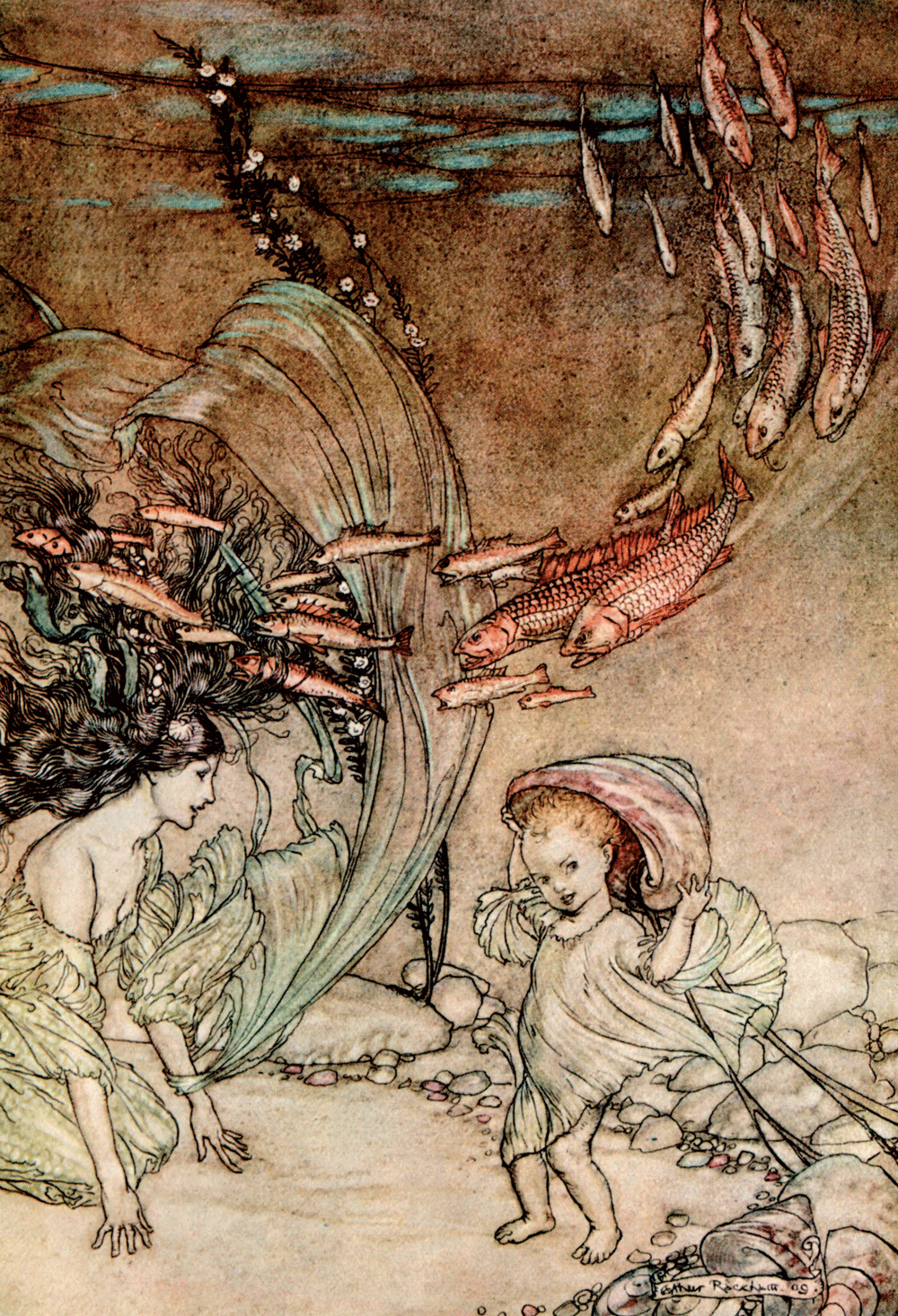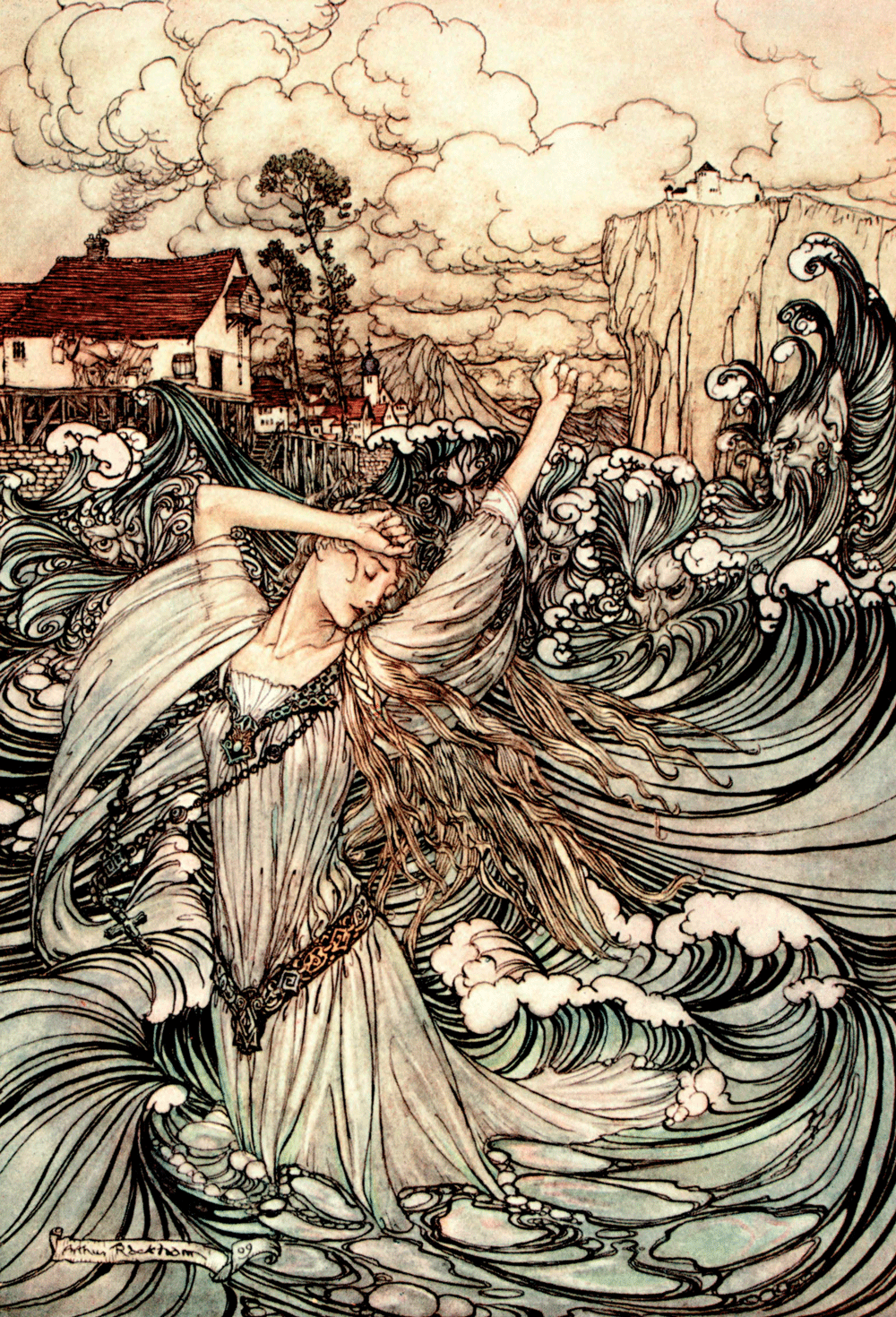 A true classic of the genre, it tells the story of Undine, a water spirit, who marries a knight named Huldebrand in order to gain a soul. It is an early German romance, which has subsequently been translated into English and many other languages.
The contemporary review published in The Studio (December 1909) provides some insight into the critical reception that Rackham's suite received upon publication: Mr Rackham's conception of "Undine" is most admirable, and his drawing of this figure unvarying in its charm. There is an amount of knowledge packed into these drawings of the figure, too, which must please the most academic. But it is Mr Rackham's singular gift to infuse scholarship with caprice, and also with emotion.

Arthur Rackham's Unmistakeable Trees
---
Throughout Rackham's work, his numerous looming, and sometimes frightening anthropomorphic trees can be found. They exude character with their detailed knots and tangles that set the scene for the wild and dangerous tales they accompany.
More on Arthur Rackham
---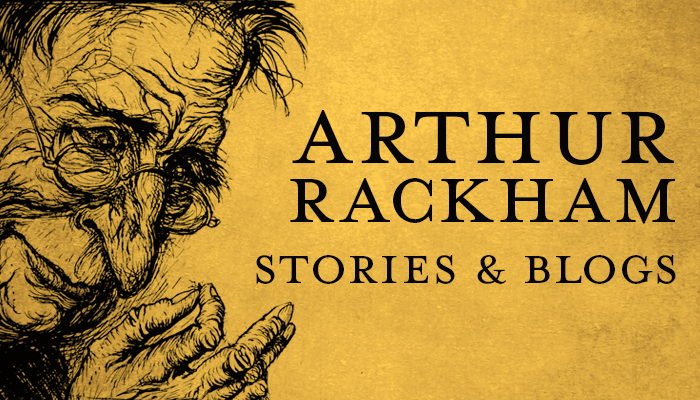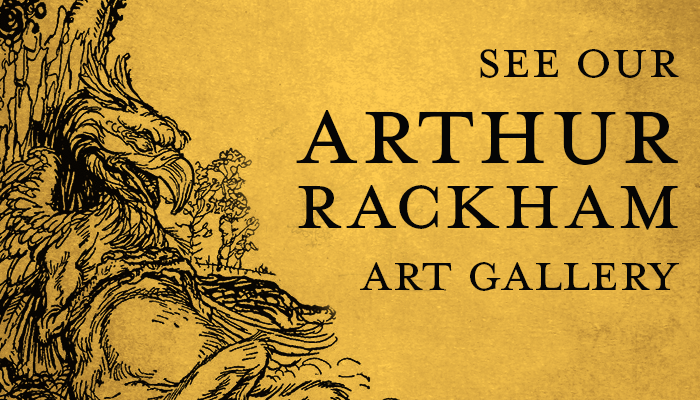 Selected Books by Arthur Rackham
---