Today marks the 25th Anniversary of National Poetry Day, and we've got our Pook's Picks for Children – The Verse Book Collection to celebrate.
Getting children into poetry can be challenging, but these sweet books make it easy. For National Poetry Day this year, we've selected our collection of Verse Books for children, illustrated by Walter Crane.
Walter Crane (1845 – 1915), was an English artist and book illustrator. He is considered to be the most influential, and among the most prolific children's book creator of his generation. He was also one of the strongest contributors to the child's nursery theme.
The collection below features 5 books from the 'Toy Books' of the late Victorian Era. Printed by Edmund Evans, they were among the first illustrated story books for children. With their main focus being on the colour print illustrations rather than the stories. Walter Crane was a featured illustrator for this series, alongside such names as Randolph Caldecott and Kate Greenaway.
Crane's work is characteristically colourful and beautifully detailed, his illustrated books are incredibly sought after today as some of the finest examples of Golden Age art.
These picture books feature some of the all time favourite stories and nursery rhymes re-imagined in verse – accompanied by beautiful illustrations by Walter Crane, we couldn't think of a better way to get involved for National Poetry Day 2019.
---
Her neck did she Crane,
As she looked up the Lane,
To see the Three Bears pass by.

---
---
One, two, buckle my shoe

Three, four, open the door"
I know that you are sad, and that your sisters are unkind;

Now go and fetch me the largest pumpkin you can find."
---

---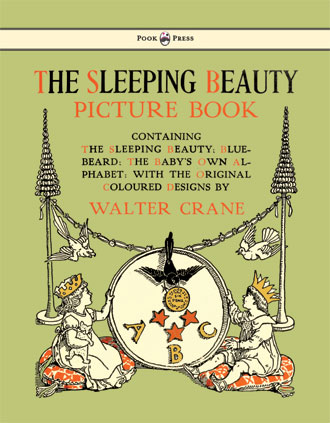 This wonderfully illustrated collection of fairy tales and rhymes,The Sleeping Beauty Picture Book tells its tales through a series of colour illustrations and integrated text, it will delight readers both young and old with such tales as 'Sleeping Beauty', 'Baby's Own Alphabet' and 'Bluebeard'. Appearing alongside the text, Walter Crane's illustrations further refine and elucidate the enchanting storytelling.
---
Other Pook Press books you might like:
---