It's World Poetry Day! Our Pook's Picks for World Poetry Day takes a look at our verse books, beautiful poetry books for children illustrated by Walter Crane.
The collection below features five books from the 'Toy Books' of the late Victorian Era, printed by Edmund Evans. They were among the first illustrated storybooks for children, Walter Crane was a featured illustrator for this series, alongside such names as Randolph Caldecott and Kate Greenaway. Crane's work is characteristically colourful and beautifully detailed, his illustrated books are incredibly sought after today as some of the most excellent examples of Golden Age art.
These picture books feature some of the all-time favourite stories and nursery rhymes re-imagined in verse – accompanied by beautiful illustrations by Walter Crane; we couldn't think of a better way to get involved for World Poetry Day.
---
Old Mother Hubbard

Went to the cupboard

to get her poor dog a bone;"

---
---
Three monkeys tied to a log,

Two puddings' ends, would choke a dog,

Or a gaping, wide-mouthed, waddling frog."
---
I know that you are sad, and that your sisters are unkind;

Now go and fetch me the largest pumpkin you can find."
---

---
Sing a song of sixpence,

A pocket full of rye,

Four and twenty black-birds,

Baked in a pie.
---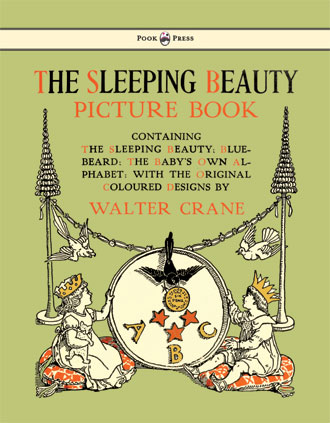 The Sleeping Beauty Picture Book tells the well-loved stories of The Sleeping Beauty, Blue-Beard, in children's verse. Along with the sweet The Baby's Own Alphabet which breaks down each letter into a rhyme making it a perfect early learning book, as well as a bedtime read.
Long, long ago, in ancient times, there lived a King and Queen,

And for the blessing of a child their longing sore had been;
---
Other Pook Press books you might like:
More on the blog: