The Secret Garden
---
The Secret Garden is a novel written by Frances Hodgson Burnett. Originally released as a serial in 1910, it was first published in its entirety in 1911 and beautifully illustrated by M. L. Kirk. It was also illustrated by Charles Robinson in 1914. The story follows Mary Lennox, a young girl born to uncaring, self-involved parents in India. Due to her parents' disregard, Mary has effectively been raised by their servants who, in an attempt to keep her out of her parents' way, spoil her and cause her to become aggressive, rude, and recalcitrant. An epidemic of cholera causes the deaths of her parents and their house staff, and she is eventually rescued by soldiers who deliver her to an English clergyman. She remains with the priest for a short period before being passed on to Archibald Craven, an uncle who resides at Misselthwaite Manor, Yorkshire.
At first Mary continues to be surly and rude, and confines herself to two rooms within the large house. She is visited frequently by a friendly maid called Martha Sowerby who regales her with stories of the late Mrs. Craven and the time she spent within near-by walled garden. Martha informs Mary that Mrs. Craven died falling out of a tree in the garden, and that the key that unlocks the garden's door was buried by her maudlin husband shortly afterwards. These stories pique the interest of young Mary, who by this time has become fond of Martha and her new friend Ben Weatherstaff, the gardener. She begins to relinquish her disagreeable temperament, spending more time outside and becoming stronger and less sickly every day.
SELECTED BOOKS
---
Another of her new friends is an ostensibly friendly Robin who, one day, seems to alert her to a strange mound of soil. After a little digging, Mary find a key, and then, the following day, the door to the garden that it unlocks. The discoveries do not stop there and shortly afterwards Mary happens across a secret room within Misselthwaite Manor that contains a young boy of a similar age to Mary called Colin, who she comes to realise is her cousin. Colin is ailed by a strange spinal injury that requires him to stay in bed, and Mary takes it upon herself to visit Colin frequently, telling him stories of her new friends, her adventures upon the moors, and the mysterious secret garden. Similarly fascinating by the garden, Colin requests that Mary take him to it. When they venture into the garden they are caught by Ben, who is surprised when Colin displays the ability to stand. The children spend every day in the garden, and Colin experiences a corporeal convalescence not dislike that enjoyed by Mary since her arrival at Misselthwaite Manor. After a dream about his wife and letter from Martha, Colin's father returns from his travels to find the garden in full bloom and his son in good health and able to run.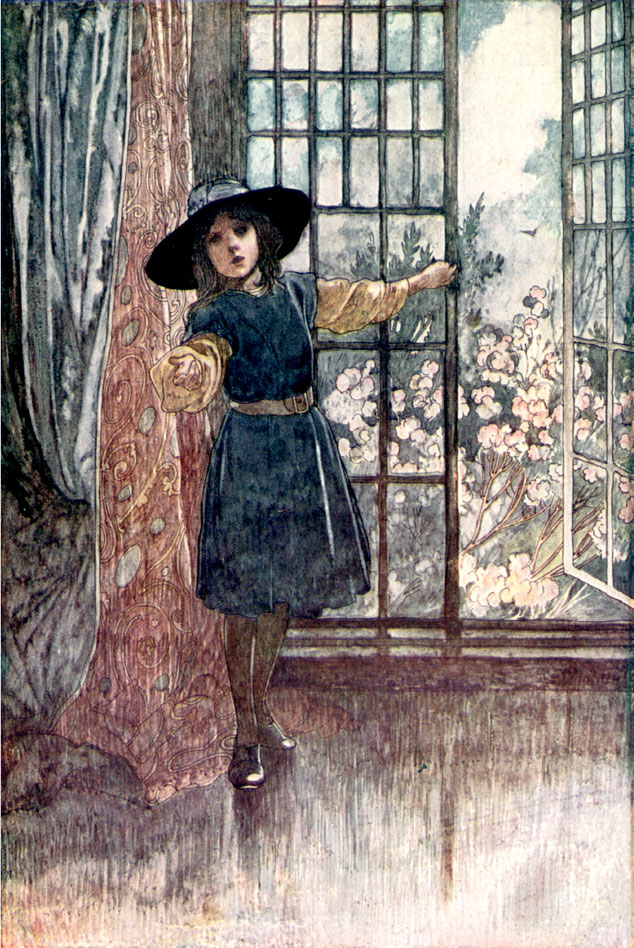 The Secret Garden – Illustrated by Charles Robinson, 1914
There are various themes and motifs within The Secret Garden, but perhaps the most obvious one is that of the rejuvenating qualities of nature. Burnett was a staunch believer in Mary Baker Eddy's Christian Science movement, which subscribed to the idea that there exists an innate healing power in all living things. This is most clearly demonstrated in the rejuvenation that takes places when Mary spends time outside or when she is exploring the moors. The garden itself both almost destroys and then completely rejuvenates the family, and is clearly portrayed as the reason for Colin's ostensibly miraculous recovery. The idea of magic is also a prevalent one, and the relationship between 'magic' and Christian Science ideas of God as a life force are solidified with Colin's desire to follow a career in science to unravel 'magical' secrets.
The influence of Christian Science can also be seen in the continuous theme of free and positive thinking. Mary realises her own downfalls when confronted with an initially selfish and petulant Colin. He serves as a counterpoint to Dickon and his mother who, despite being poor, enjoy a happy life by being at one with nature and kind to others. It is precisely the adoption of such ideas that provide the basis for the rejuvenation of both mind and spirit in Mary and Colin.
The story also serves are a platform for criticisms of contemporary medical ideas. There is a constant struggle between common sense and the accepted ideas of the time. For example, the servants and other characters subscribe to dangerous theories supported by a doctor, and it is only through the children's observation and common-sense that allow them to break free from the dangerous ideas and make sound judgements for themselves.
Perhaps due to the fact that it was originally aimed at both adults and children, The Secret Garden did not enjoy a tremendous amount of critical acclaim or popularity when first published, and Burnett's other works—such as Little Lord Fauntleroy—experienced far greater success at the time. The increase of scholastic work aimed at children's literature within the last twenty-five years, however, has meant that The Secret Garden has come to the forefront of Burnett's corpus, and is now widely considered to be amongst the best children's books of the twentieth century.
SELECTED BOOKS
---