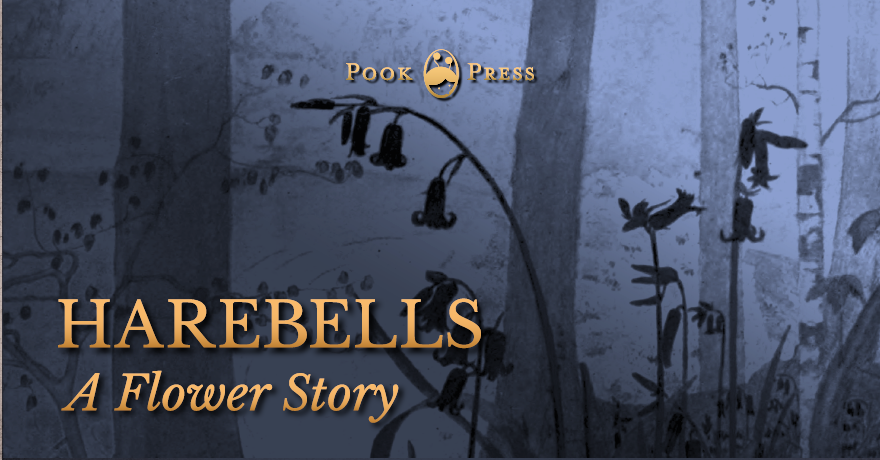 A field-flower warning, bluebells luminous as evening skies, and a journey to the summit of all things.
From The Flower Book – Illustrated by Maxwell Armfield.
---
Harebells
A Flower Story
---
SUMMER drowsed in hedgerow and meadow. The riot of Spring was over. The Harebells arrived in the heat of the year. They lifted their heads in the valley, to find Sorrel and Clover and Vetch around them.
"We are the Messengers," said the Harebells. "We must go out into the world."
"You will die in the heat," said the Meadow-flowers. "Even here the Sun is shrivelling us to extinction."
"Messengers must always keep fresh," carolled the Harebells, and went into the dust of the highways.
"You will be trodden on," said the Flowers in the Hedgerows. But the Harebells stood on the very fringe of the road.
"We must carry the Message to those who need it," said they. "It is possible to be fresh in the Sun, even though one is fashioned delicately. We know no fatigue, but march on, rejoicing!"
"You will perish if you climb," called the last Field-flowers. "We are making a desperate struggle for existence. The winds come down so searchingly."
"We can bear to be searched," sang the Harebells, and climbed up on to the headland and shook their bells out into the gulf of blue.
"The sea-winds—the cruel sea-winds!" shivered the Meadow-flowers. But the Harebells only waxed a stronger blue; their wire-like stems resisted the wind splendidly.
"There is no foothold on the crumbling cliff," came faintly from the uplands.
But the Messengers shrilled loud: "We find foothold everywhere."
"Wait till you climb the mountains," said the other flowers. But the Harebells continued upward.
Now ice-cold rills purled round them, and snow shone white against the sky. Rocks started from the Earth, and even faithful Grass-blades found it hard to thrive. The Harebells were growing a still intenser blue. Deep as a King's mantle, luminous as evening skies, the bells crisped outward, spreading ever, as though to send the message farther and farther.
"There is nothing to live on up yonder—no Earth at all," said the Grass-blades, and came to a standstill.
The Harebells mounted still.
Pure and clear, their blue bells rustled on the mountain crags. The frail bells swayed over the ether. Far, far below, summer lay in a sleeping world. Here was the freshness of the mountain wind, cold and free; here was the great Sun, blazing in the silence. Now the Harebells had reached the summit of all things.
Far down they saw the first of their brothers, those who were still in the valley: they watched the blue specks travelling upward, along dusty roads, over cliffs, and up into the mountains—always climbing—till there was nothing between them and heaven.