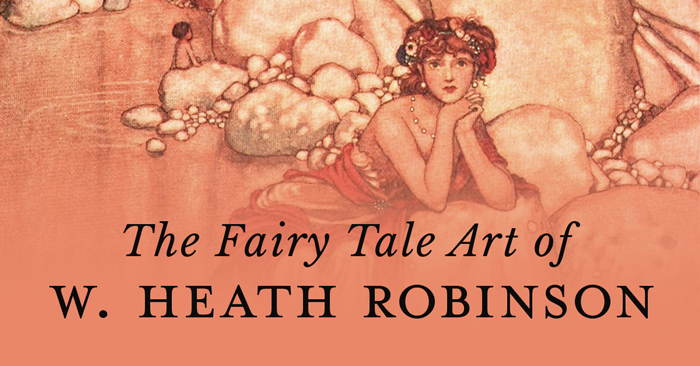 W. Heath Robinson was a prolific artist and book illustrator. While he is best known for creating eccentric cartoons of absurd machines during the early twentieth century, his magical children's illustrations placed him in the realm of goblins and giants. With a collection of fairy tale art spanning nearly 50 years, The Fairy Tale Art of W. Heath Robinson is a carefully curated volume that celebrates many of Heath Robinson's wonderful, yet often overlooked, children's book illustrations.
In 1872, William Heath Robinson was born in Islington, London, into a family of artists. His father, Thomas Robinson (1838–1937), was an engraver and illustrator for the Penny Illustrated Paper, a cheap London weekly that ran throughout the nineteenth century. His two brothers, Thomas Heath Robinson (1869–1954) and Charles Robinson (1870–1937), were also successful illustrators of books and children's stories. W. Heath Robinson started his artistic journey at Islington Art School with dreams of becoming a professional landscape painter. Despite his classical training and resilient efforts, he gained little commercial success from his landscapes and downed his brushes to follow his father and brothers into the field of illustration. With prolific illustrators such as Aubrey Beardsley, Walter Crane, and Robert Anning Bell practising at the time, Heath Robinson saw a career in illustration as a lucrative opportunity to continue his profession as an artist. Along with his two brothers, he worked in his father's offices near Hampstead Heath, London, before embarking on his own illustrative career.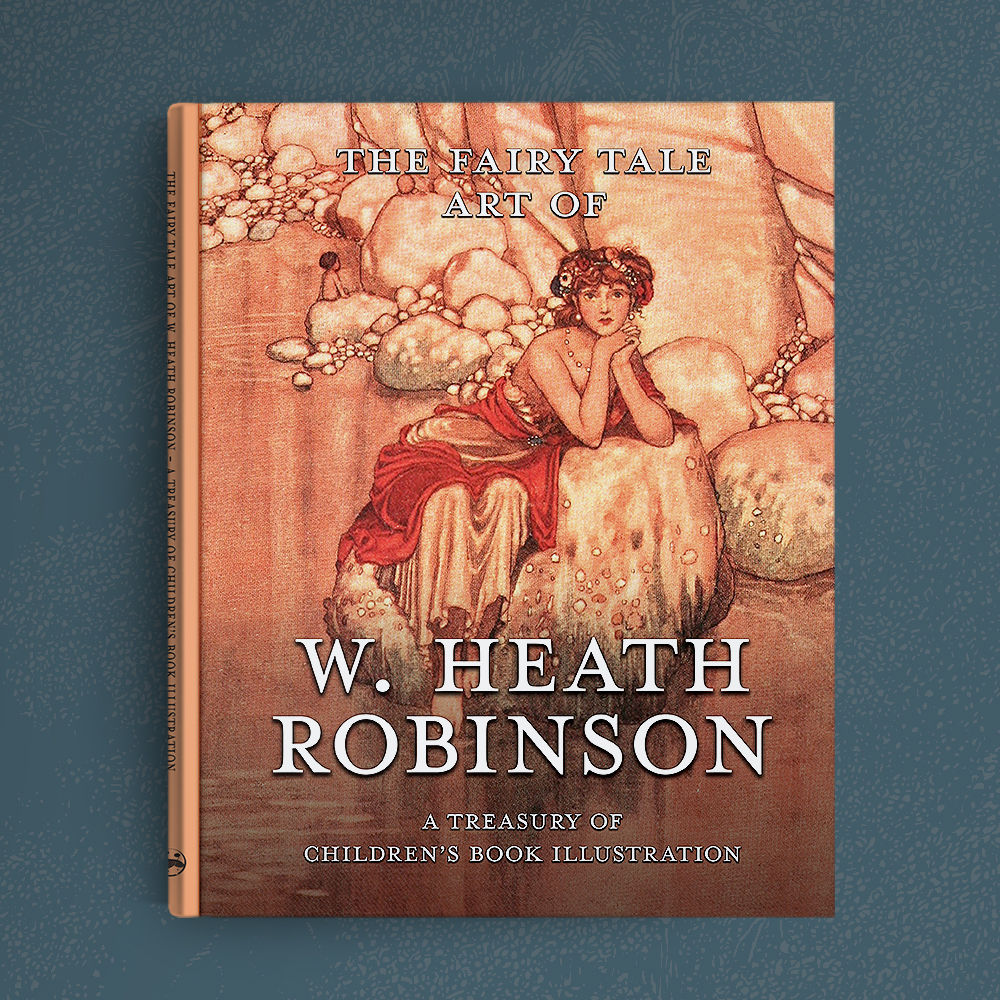 After many failed attempts to get commissioned work, Heath Robinson's first published book illustrations appeared in 1879 in The Giant Crab, a collection of stories for children based on Indian folklore written by W. H. D. Rouse. He described the charming tales as 'naively and humorously written' – an appealing subject for a young, jovial illustrator. At the time of publication, the world of illustration was going through a spell of creative brilliance. The period, now known as The Golden Age of Illustration (1875–1920), benefitted from revolutionary advancements in the printing process, marking an upsurge in the popularity, abundance, and quality of illustrated works. The improvements in technology allowed lavish colour illustrations to be printed for the first time, subsequently widening the market and boosting the popularity of the artists working in the field. By the beginning of the twentieth century, wood engravings were no longer used to reproduce illustrations. Artists like Aubrey Beardsley utilised the zinc line block technique to create crisp, pure lines in their work.
The fact is Heath Robinson has never grown up, and for everybody's amusement, let us hope he never will"
– E. Johnson, Brush, Pen and Pencil
Although Heath Robinson's early illustrations were mostly penned in black and white, what they lacked in colour, they made up for in glorious detail. He brilliantly captured the magic of the children's stories, filling each page with humorous charm. The complex and often whimsical illustrations secured him an early standing in the illustrative community and spurred a stream of commissions for several other works.
While his illustrative career was on the upturn during the late nineteenth century, it wasn't until the publication of his title, The Adventures of Uncle Lubin, in 1902 that Heath Robinson truly gained recognition for his craft. Authored and illustrated by W. Heath Robinson himself, the fantastical story of Uncle Lubin is one full of waggish charm. The story follows the titular character on many adventures as he tries to rescue his nephew from the clutches of a troublesome bag-bird. Through the help of many innovative machines, Lubin embarks on a mission to retrieve his missing nephew. However, it is not all smooth sailing. Heath Robinson called Lubin's character an embodiment of his own 'good genius', a manifestation of his creative persona, one that opened many doors for him in the world of commercial magazine illustration.
Over his career, Heath Robinson was fortunate to illustrate three editions of Hans Andersen's Fairy Stories during the years 1897, 1902, and 1913. With each benefitting from his improving skill and style and the developments in the printing press, it was his 1913 edition that he saw as the best, 'enhanced by the many colour illustrations'. He took pride in the stories penned by Hans Andersen, stating that the happier tone of the fairy tales allowed for more whimsical artwork. He made an effort to stay true to the 'family resemblance' of gnomes and fairies that exist within the world of fairy tales, filling the pages of children's books with many magical pictures, stating that 'perhaps it is this that has convinced many children both young and old that fairies really exist.' The stunning colour illustrations in his 1913 edition of Hans Andersen's Fairy Stories are a beautiful example of the multifaceted illustrator that Heath Robinson had become.
Along with his early success in children's illustration, Heath Robinson's commercial work for magazines began to gather momentum. His magical children's illustrations continued in tandem with other commercial work, as he turned his hand to creating satirical illustrations and advertisements. He began drawing funny cartoons for various advertisements and magazines, including The Sketch and Tatler, launching his career as a humorous artist. He became well known as a character in his own right, with contemporaries like H. G. Wells becoming extremely fond of his clever wit and personality in the works. In his autobiography, My Line of Life, Heath Robinson states, 'I was imagined by some people to be a kind of ingenious mad-hatter, wandering around absent mindedly, with my pockets full of knotted string, nails and pegs of wood, ready to invent anything at a moment's notice.'
In his magazine illustrations, his charming characters left the childish fantasies of Uncle Lubin behind. They became experts in British industries, haphazard inventions, and sports, amongst other things, artfully playing to their new grown-up audiences. Heath Robinson created a series of drawings that included fantastical yet often perilous occupations like 'Tickling for the Bandicoot in New South Wales' and 'Stiltonizing Cheese in the Stockports of Cheddar'. While these drawings were more commercial than his children's book illustrations, they were still full of Heath Robinson's fanciful humour. Many of his invented machines, methods, and games were recreated by fans of his work worldwide.
"Your absurd, beautiful drawings… give me a particular pleasure of the mind like nothing else in the world"
– H. G. Wells in a letter to W. Heath Robinson in 1914
W. Heath Robinson, The Gadget King
His comedic, mechanical drawings earned him the nickname 'The Gadget King'. The cartoons were so popular that they were reprinted many times and helped to develop the phrase 'Heath Robinson'. This term was added to the Oxford Dictionary in 1912 and describes over-complicated and absurd contraptions that are used to gain simple results.
Shortly after the outbreak of the First World War in 1914, Heath Robinson's magical illustrations for William Shakespeare's A Midsummer Night's Dream were published in a mix of full plate colour and stunning black and white – creating a magical distraction from the horrors that would soon ensue. The full-colour plates focus on the landscape scenery and create an immersive world for the characters, potentially taking influence from his serious landscape work as a young art graduate. Their washes of colour perfectly complement their intricate black and white neighbours, further elucidating many of the magical stories at his fingertips. Heath Robinson's lavish illustrations evoke the enchanting, romantic, and often cheeky spirit of Shakespeare's most popular play, creating an atmosphere that he refers to as 'the most wonderful moonlight night in fantasy.' Heath Robinson's masterpiece continues to be one of the most stunning editions of A Midsummer Night's Dream ever published.
As war erupted across Europe, Heath Robinson's magazine illustrations became heavily satirical. Building on the absurd machines first seen in The Adventures of Uncle Lubin, Heath Robinson drew many cartoons depicting unlikely secret weapons used by the soldiers. The drawings for Sketch during the war years humorously depict attacks from the German army and the comical defence by the British. His machines were often rickety, unstable, and powered by candles or steam from boilers or kettles. They were kept running by balding, bespectacled men. Complex pulleys, levers, strings, and knots held these machines together and powered them along. He continued to draw for Sketch until the end of the war. The cartoons were sent out en masse to the men fighting across the world and were greatly appreciated by British soldiers seeking a small piece of humour in the bleakness of the trenches.
Following the triumph of his early illustrative works, Heath Robinson continued to produce artwork for many children's books throughout the first half of the decade. Contrasting his nonsensical machinery cartoons, he created beautiful works for classic children's literature, as seen in this volume, which demonstrates his keen talent and the vast range of styles. His illustrations appear in much-loved works such as The Water Babies by Charles Kingsley, 1915, and Old Time Stories by Charles Perrault, 1921. His work also features in lesser-known story collections like Peacock Pie by Walter de la Mare, 1916, and Topsy-Turvey Tales by Elsie Smeaton, 1923. In 1934, Heath Robinson produced his self-titled book of folklore and fairy tales, Heath Robinson's Book of Goblins. The extraordinary work is full of stories about mischievous goblins, penned and illustrated by Heath Robinson's own hand, and all in a mix of brilliant colour and black and white.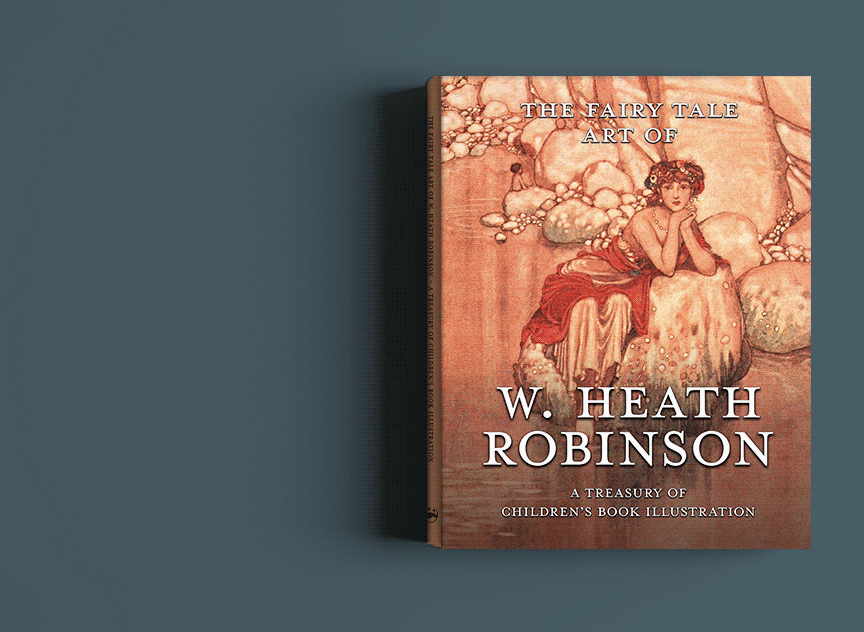 Heath Robinson's children's drawings juxtapose his machinery cartoons. Despite maintaining fantastical elements, his fairy tale illustrations veer away from the absurd and move towards themes of romanticism, which were commonly seen in the illustrations of the early twentieth century. Although his Book of Goblins was successful, Heath Robinson's wacky contraptions held more public appeal than his work in children's books.
In the same year as his self-titled volume, following the success of his war illustrations, Heath Robinson published Absurdities, a collection of his favourite mechanical drawings. The legacy that he created for himself extended throughout the later 1900s, with British codebreakers naming the automatic analysis machine in honour of his ridiculous inventions. The 'Heath Robinson' machine was used at Bletchley Park during the Second World War to decrypt German cyphers. Heath Robinson's work influenced other illustrators at the time, with American cartoonist Rube Goldberg creating similar ridiculous gadgets and processes in his work. Heath Robinson was so celebrated for his Absurdities that after his prolific period of children's illustration in the early twentieth century, his name became synonymous with humorous, satirical cartoons and ridiculous machinery. His last illustrative work, Once Upon A Time, a collection of children's tales by Lillian M. Clopet, was published in 1944. He died later that year at the age of 72.
Pook Press has carefully curated an extensive W. Heath Robinson Children's Library, and this volume is a treasury of the very best of that collection. Many of the most-adored children's storybooks of the twentieth century featured Heath Robinson's illustrations, and many of these have now been preserved in this volume for new generations to enjoy.