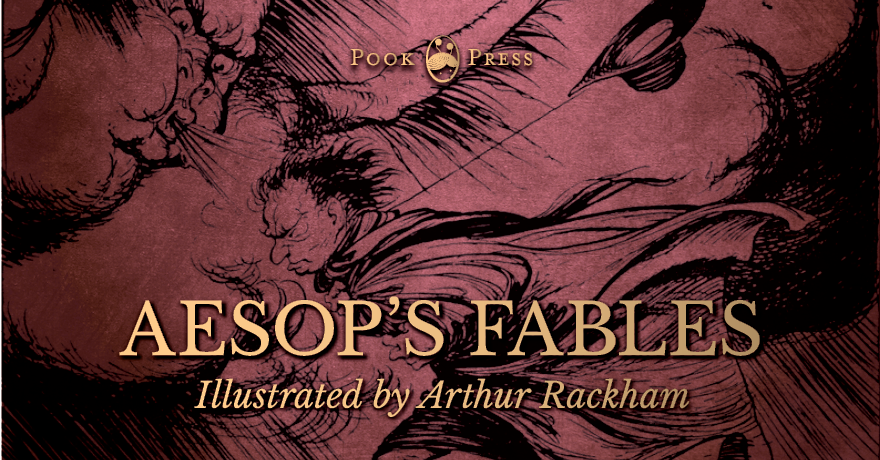 Arthur Rackham's Aesop's Fables
Aesop was a slave and storyteller living in ancient Greece between 620 and 560 BCE. His book of fables, known as Aesop's Fables is a wonderful collection of moral tales for children. These tales have been told over and over since they were first written down and there are many different illustrators who have accompanied the text. One of our favourites is Arthur Rackham's Aesop's Fables. Rackham's illustrations bring so much character and humour to the thought-provoking morals.
This year marks the celebration of 150 years of Arthur Rackham, born 19th September 1867. To mark this occasion we present to you 10 of his witty illustrations along with these famous fables.
---
Arthur Rackham's Aesop's Fables
---
The Fox and the Crow
A Crow was sitting on a branch of a tree with a piece of cheese in her beak when a Fox observed her and set his wits to work to discover some way of getting the cheese. Coming and standing under the tree he looked up and said, "What a noble bird I see above me! Her beauty is without equal, the hue of her plumage exquisite. If only her voice is as sweet as her looks are fair, she ought without doubt to be Queen of the Birds." The Crow was hugely flattered by this, and just to show the Fox that she could sing she gave a loud caw. Down came the cheese, of course, and the Fox, snatching it up, said, "You have a voice, madam, I see: what you want is wits."
The Wolf and the Lamb
A Wolf came upon a Lamb straying from the flock, and felt some compunction about taking the life of so helpless a creature without some plausible excuse; so he cast about for a grievance and said at last, "Last year, sirrah, you grossly insulted me." "That is impossible, sir," bleated the Lamb, "for I wasn't born then." "Well," retorted the Wolf, "you feed in my pastures." "That cannot be," replied the Lamb, "for I have never yet tasted grass." "You drink from my spring, then," continued the Wolf. "Indeed, sir," said the poor Lamb, "I have never yet drunk anything but my mother's milk." "Well, anyhow," said the Wolf, "I'm not going without my dinner": and he sprang upon the Lamb and devoured it without more ado.
The Cat and the Birds
A Cat heard that the Birds in an aviary were ailing. So he got himself up as a doctor, and, taking with him a set of the instruments proper to his profession, presented himself at the door, and inquired after the health of the Birds. "We shall do very well," they replied, without letting him in, "when we've seen the last of you."
A villain may disguise himself, but he will not deceive the wise.
The Moon and Her Mother
The Moon once begged her Mother to make her a gown. "How can I?" replied she; "there's no fitting your figure. At one time you're a New Moon, and at another you're a Full Moon; and between whiles you're neither one nor the other."
The Lion and the Mouse
A Lion asleep in his lair was waked up by a Mouse running over his face. Losing his temper he seized it with his paw and was about to kill it. The Mouse, terrified, piteously entreated him to spare its life. "Please let me go," it cried, "and one day I will repay you for your kindness." The idea of so insignificant a creature ever being able to do anything for him amused the Lion so much that he laughed aloud, and good-humouredly let it go. But the Mouse's chance came, after all. One day the Lion got entangled in a net which had been spread for game by some hunters, and the Mouse heard and recognised his roars of anger and ran to the spot. Without more ado it set to work to gnaw the ropes with its teeth, and succeeded before long in setting the Lion free. "There!" said the Mouse, "you laughed at me when I promised I would repay you: but now you see, even a Mouse can help a Lion."
The North Wind and the Sun
A dispute arose between the North Wind and the Sun, each claiming that he was stronger than the other. At last they agreed to try their powers upon a traveller, to see which could soonest strip him of his cloak. The North Wind had the first try; and, gathering up all his force for the attack, he came whirling furiously down upon the man, and caught up his cloak as though he would wrest it from him by one single effort: but the harder he blew, the more closely the man wrapped it round himself. Then came the turn of the Sun. At first he beamed gently upon the traveller, who soon unclasped his cloak and walked on with it hanging loosely about his shoulders: then he shone forth in his full strength, and the man, before he had gone many steps, was glad to throw his cloak right off and complete his journey more lightly clad.
Persuasion is better than force.
The Fox and the Stalk
A Fox invited a Stork to dinner, at which the only fare provided was a large flat dish of soup. The Fox lapped it up with great relish, but the Stork with her long bill tried in vain to partake of the savoury broth. Her evident distress caused the sly Fox much amusement. But not long after the Stork invited him in turn, and set before him a pitcher with a long and narrow neck, into which she could get her bill with ease. Thus, while she enjoyed her dinner, the Fox sat by hungry and helpless, for it was impossible for him to reach the tempting contents of the vessel.
The Fir-Tree and the Bramble
A Fir-tree was boasting to a Bramble, and said, somewhat contemptuously, "You poor creature, you are of no use whatever. Now, look at me: I am useful for all sorts of things, particularly when men build houses; they can't do without me then." But the Bramble replied, "Ah, that's all very well: but you wait till they come with axes and saws to cut you down, and then you'll wish you were a Bramble and not a Fir."
Better poverty without a care than wealth with its many obligations.
The Flea and the Man
A Flea bit a Man, and bit him again, and again, till he could stand it no longer, but made a thorough search for it, and at last succeeded in catching it. Holding it between his finger and thumb, he said—or rather shouted, so angry was he—"Who are you, pray, you wretched little creature, that you make so free with my person?" The Flea, terrified, whimpered in a weak little voice, "Oh, sir! pray let me go; don't kill me! I am such a little thing that I can't do you much harm." But the Man laughed and said, "I am going to kill you now, at once: whatever is bad has got to be destroyed, no matter how slight the harm it does."
Do not waste your pity on a scamp.
The Crab and His Mother
An Old Crab said to her son, "Why do you walk sideways like that, my son? You ought to walk straight." The Young Crab replied, "Show me how, dear mother, and I'll follow your example." The Old Crab tried, but tried in vain, and then saw how foolish she had been to find fault with her child.
Example is better than precept.
The Owl and the Birds
The Owl is a very wise bird; and once, long ago, when the first oak sprouted in the forest, she called all the other Birds together and said to them, "You see this tiny tree? If you take my advice, you will destroy it now when it is small: for when it grows big, the mistletoe will appear upon it, from which birdlime will be prepared for your destruction." Again, when the first flax was sown, she said to them, "Go and eat up that seed, for it is the seed of the flax, out of which men will one day make nets to catch you." Once more, when she saw the first archer, she warned the Birds that he was their deadly enemy, who would wing his arrows with their own feathers and shoot them. But they took no notice of what she said: in fact, they thought she was rather mad, and laughed at her. When, however, everything turned out as she had foretold, they changed their minds and conceived a great respect for her wisdom. Hence, whenever she appears, the Birds attend upon her in the hope of hearing something that may be for their good. She, however, gives them advice no longer, but sits moping and pondering on the folly of her kind.
The Ass in the Lion's Skin
An Ass found a Lion's Skin, and dressed himself up in it. Then he went about frightening every one he met, for they all took him to be a lion, men and beasts alike, and took to their heels when they saw him coming. Elated by the success of his trick, he loudly brayed in triumph. The Fox heard him, and recognised him at once for the Ass he was, and said to him, "Oho, my friend, it's you, is it? I, too, should have been afraid if I hadn't heard your voice."
The Quack Frog
Once upon a time a Frog came forth from his home in the marshes and proclaimed to all the world that he was a learned physician, skilled in drugs and able to cure all diseases. Among the crowd was a Fox, who called out, "You a doctor! Why, how can you set up to heal others when you cannot even cure your own lame legs and blotched and wrinkled skin?"
Physician, heal thyself.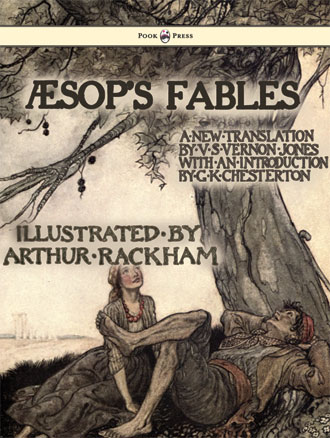 Aesop's Fables illustrated by Arthur Rackham
Save
Save
Save