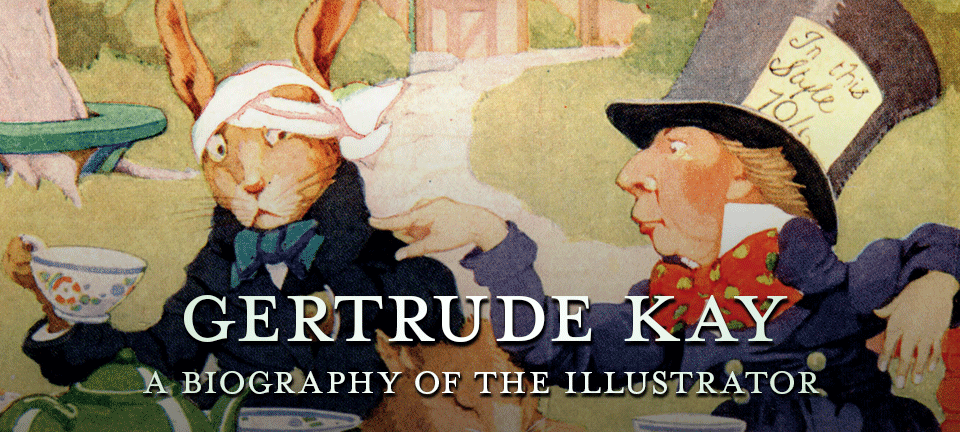 Gertrude Kay Biography
---
Gertrude Kay was born in Alliance, Ohio, U.S.A in 1884.
Her father was a successful hardware merchant, and allowed his daughter to follow her passion for the creative arts. Kay studied illustration at the Philadelphia Museum School of Design, and at the Drexel Institute in Philadelphia, where she worked with Howard Pyle. Drexel's class had almost 50% female students, and he pushed many female artists of this generation to fight for their right to illustrate for the major publishing houses of the time. Her fellow female illustrators at Drexel included Jessie Willcox Smith, Elizabeth Shippen Green and Violet Oakley – otherwise known as 'The Red Rose Girls'.
SELECTED BOOKS
---
From 1906 onwards, Kay exhibited regularly at the Pennsylvania Academy of the Fine Arts. After completing her studies, she returned to her hometown of Alliance, where she established her studio, and lived for the rest of her life.
Gertrude Kay began to publish her work whilst still in her teens, and between 1908 and 1920 produced covers and story illustrations for the Ladies' Home Journal and other publications. It was around this time that Kay also started illustrating children's books. Her book, The Little Lame Prince and Other Stories (published in 1927) was particularly well-received.
Kay began to travel widely in 1921, first to China and Japan, and later to Ireland, England, and Italy. She was joined on these travels by her sister and mother. Her popularity as an illustrator increased with her foreign travels, as she demonstrated her ability to accurately and sensitively portray foreign cultures. Kay made many and varied sketches – vibrant and full of colour – and immersed herself in Eastern and European cultures. During the mid-twenties, she put these skills to good use and wrote and illustrated articles for the Ladies' Home Journal called "Adventures in Geography."  In 1923, Kay illustrated a popular version of Lewis Carroll's Alice's Adventures In Wonderland.
Gertrude Kay also painted in the American Southwest, and produced colourful illustrations of Native American and Hispanic children. Ever a keen landscape watercolourist, she exhibited at the Art Institute in Chicago, the Plastic Club in Philadelphia, and the New York Watercolour Club.
Aside from her prolific illustrative and painterly career, Kay wrote some of her own children's books. These included: When the Sandman Comes, The Book of Seven Wishes, Helping the Weatherman, and Us Kids and the Circus.
Gertrude Kay died in an automobile accident, on 19th December 1939, at the age of fifty-five.

SELECTED BOOKS
---