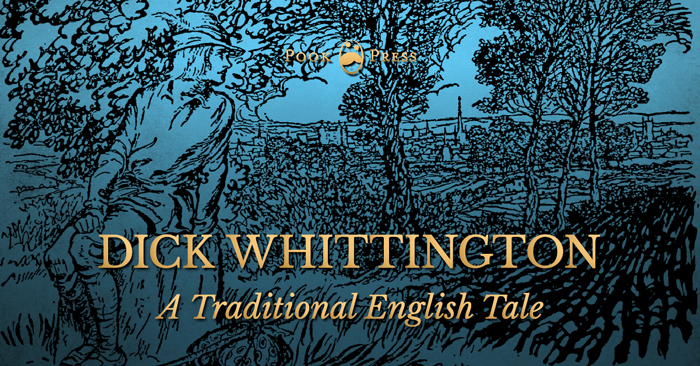 Streets paved with gold, a cat with an appetite for mice, and a young man whose luck turns around.
---
Dick Whittington
– A Tradition English Tale –
---
IN the reign of King Edward III there lived in Somersetshire a boy called Dick Whittington, whose father and mother had died when he was very young. The people where he lived were very poor, and he had very little to eat, but he heard talk about the great city of London, which they said was so rich and fine that all the folks there were great ladies and gentlemen, and that the streets were all paved with gold. And as he grew older he made up his mind that he would somehow manage to go to London, where he could make his fortune. One day there drove through the village a large wagon with a team of horses on its way to London. So he took courage and begged the wagoner to let him come too. The wagoner was moved to pity when he heard how badly off poor Dick was, so he told him he might come if he liked, and they set off together.
When he reached London he said good-bye to the wagoner, who gave him a groat on parting, and with this as his sole possession, Dick wandered here and there, wondering what he should try to do next, and bitterly disappointed to find that in the streets that he had expected to be paved with gold he found nothing but mud and dirt.
After he had spent the little he had and had gone hungry for two days he sat down to rest on the doorstep of a merchant's house in Leadenhall Street. Soon the cook, who was exceedingly bad-tempered, saw him, and threatened to kick him from the door.
Just then the master of the house, Mr Fitzwarren, came home from the Royal Exchange. When he noticed the boy there he asked him what he wanted, and then told him that he must go away at once. Dick tried to do so, but was so faint from want of food that he fell down again when he tried to stand. Then he told Mr Fitzwarren that he was a poor boy from the country, and that he would do any work that was given him, if only to get some food. The merchant felt sorry for him, and as he happened to want a boy to help in the kitchen he ordered one of his servants to take him in, saying what work he should be given to do. Then a good meal was set before Dick, and you may be sure that he was very glad to see it.
But all was not by any means easy and pleasant for him. The servants made him a laughing-stock, and the bad-tempered cook ordered him to do innumerable jobs in the kitchen, threatening to break his head with her ladle if he did not do them quickly enough.
Still, he got enough to eat now, and that was a change. And Miss Alice, his master's daughter, seeing him in the kitchen, found some old clothes for him that were better than his poor rags, and gave orders to the cook and the other servants that he was to be treated kindly.
So it was decided that he should stay, and a bed was made up for him in the garret.
But he found that the rats and mice in the garret were almost as troublesome by night as the cook was by day. They ran over Dick Whittington's face, and disturbed him so with their squeaking and scratching that he was almost tempted to run away once more.
Soon after a merchant came to dinner, and as it came on to rain very hard he was invited to stay the night. In the morning Dick cleaned his shoes, and when he took them to the merchant he was given a penny for his trouble. A little later, as he was going on an errand, he saw a woman with a cat under her arm. He asked her if she would sell it. She said that as it was a fine mouser she would not take less than sixpence. But when Dick replied that a penny was all he had the woman let him have the cat.
He took the cat home, and hid her in his garret all day, for he was afraid that the cook would kill her if she was found in the kitchen. He always saved scraps from his dinner to take up to her, and at night she worked so well for her living that Whittington was troubled no more with rats and mice.
Now whenever the merchant, Mr Fitzwarren, sent out a ship it was his custom to call all his servants and ask them to venture something of their own in it. As he was now sending out a ship everybody but Whittington came, and brought what they could for it. Miss Alice noticed his absence, and ordered him to be called, but he tried to excuse himself, saying that all he could call his own was a poor cat which he had bought for a penny that had been given him for cleaning shoes. When Miss Alice heard this she offered to put something in the ship for him, but her father told her that it was the custom for everybody to venture something of his own. He therefore told Whittington to bring his cat. This he did very unwillingly, for he was parting with his best friend. He had tears in his eyes as he gave it to the master of the ship, the Unicorn, which immediately started off down the river on her voyage.
After this the cook often made fun of Whittington's venture, and altogether she scolded and harassed him so much that at last he made up his mind to run away rather than be so tormented any longer. He packed up his bundle, and early the next morning got up with the idea of going away into the country. He went through Moorfields, and in time he reached Holloway, where he sat down at the top of the hill to rest on a stone, which to this day is called "Whittington's Stone." As he sat there he could hear Bow Bells ringing merrily. It seemed that they were speaking to him, and Saying:
"Turn again, Whittington,
Thrice Lord Mayor of London."
That seemed to him to be such a grand idea that he decided that he had better not run away after all. As it was yet early he thought that he might reach home before his absence was noticed. And so it happened. And he was able to creep quickly in and start doing his usual work without being seen by anybody.
While all this was going on the ship in which Whittington's cat had been taken, after having been buffeted by contrary winds, had sought shelter on the coast of Barbary. The inhabitants of this region were Moors, and they were quite unknown to the English. As they seemed disposed to be friendly, however, the ship's captain determined to trade with them. He brought all his wares on deck and displayed them so that the Moors could see what he had. They were so pleased with the goods that news was carried to the King, who sent for samples and afterwards invited the master to come to the palace.
As was the custom in that country, everybody sat on the floor, which was covered with rich carpets. Upon these various dishes were laid, and the appetizing odour soon attracted a great number of rats and mice, who quickly ate all that they could see. The captain, in great astonishment, asked some of the people if they did not object to the presence of such vermin.
"Yes," was the answer, "we dislike them extremely. His Majesty would willingly give half of what he possesses to get rid of them." The captain then thought of Whittington's cat, and he lost no time in telling the King that he had in his ship an animal which would quickly destroy these pests.
This was welcome news to the King, and he desired to see this wonderful animal at once, saying, "If this is so and you will let me have it I will fill your ship with precious gems."
The master replied, "She is indeed the most wonderful creature in the world, but I cannot spare her, for she keeps the ship clear of rats and mice, and so prevents my goods from being destroyed."
The King, however, would not hear of any objection, saying that he was willing to pay any price for such a precious animal.
Accordingly the cat was brought, and when the dishes were spread on the floor the rats and mice scurried in as before. The cat, however, made short work of them, and came purring to the King, as if asking for a reward. Naturally he admired her greatly, and gave ten times more for her than for all the freight besides.
The ship then set sail with a fair wind for England, and arrived safely at Blackwall. Taking the casket of jewels with him, the master presented his bill of lading to Mr Fitzwarren, who naturally rejoiced in so prosperous a voyage.
When he assembled all his servants to give each the portion that belonged to him the master showed him the casket of gems, and told him that this was all for Whittington's cat. Mr Fitzwarren immediately sent for Whittington, who was in the kitchen washing pots and pans. When, after some hesitation, he came in the merchant ordered a chair to be placed for him. Poor Dick, thinking that they were all laughing at him, knelt before his master, and with tears in his eyes asked him not to make a game of a poor fellow who meant nobody any harm.
Mr Fitzwarren, helping him to his feet, addressed him as "Mr Whittington," and said, "We are very much in earnest. At the present moment you are a richer man than I am." Then he gave him the casket, the value of which amounted to three hundred thousand pounds.
When he could be induced to believe that all this was really true Whittington turned to his master, and laid his wealth at his feet, but Mr Fitzwarren said, "No, Mr Whittington, I could not dream of taking even the smallest portion from you. May it bring you much happiness!"
Whittington then turned to Miss Alice, but she would not take anything either, so he gave shares to his fellow-servants, not even forgetting his old enemy the cook, and he rewarded handsomely all the ship's crew.
Then he was given clothes in keeping with his new position, and as he was now dressed he was seen to be a very presentable young man; so much so that Miss Alice began to look at him with favour. Her father, seeing this, thought that it would be a good idea to arrange a match between them. This was soon settled, and the Lord Mayor and Aldermen were invited to the wedding.
At the conclusion of the honeymoon Mr Fitzwarren asked his son-in-law what occupation he would wish to choose. Whittington replied without hesitation that he would like to be a merchant. As a result they entered into partnership, and both became extremely wealthy.
All this good fortune did not make Richard Whittington proud or overbearing. Indeed, he was such good company that all took delight in being with him, and he was particularly kind to the poor. In the year 1393 he was made Sheriff of the City of London, during the time that Sir John Hadley was Lord Mayor.
Four years later he was chosen as Lord Mayor himself, and received the honour of knighthood from the King. And he filled the duties of that office with such prudence and distinction that on two later occasions he was chosen for the same office.
In the last year it fell to his lot to entertain King Henry V after he had returned from his conquests in France. The King and Queen were feasted at the Guildhall so splendidly that the King said, "Never had prince such a subject!" To which Whittington replied, "Never had subject such a prince!"
Till the year 1780 the figure of Sir Richard Whittington with his cat in his arms might be seen carved in stone over the archway that spanned the street by the old prison of Newgate.
. . . . .
This story was taken from the book:
The Arthur Rackham Fairy Book – A Book of Old Favourites with New Illustrations
The Arthur Rackham Fairy Book – A Book of Old Favourites with New Illustrations contains a truly wonderful collection of classic children's stories. They include Charles Perrault's 'Hop O' My Thumb', 'Sleeping Beauty', 'Cinderella' and 'Bluebeard', traditional English tales such as 'Jack and the Beanstalk' and 'Dick Whittington', as well as tales from Arabian nights such as 'Ali Baba', 'Aladdin' and 'Sinbad the Sailor'. True masterpieces of the genre such as Hans Christian Anderson's The Emperors New Clothes', 'The Ugly Duckling' and 'The Princess and the Pea' are also encompassed.
Other books you might like: