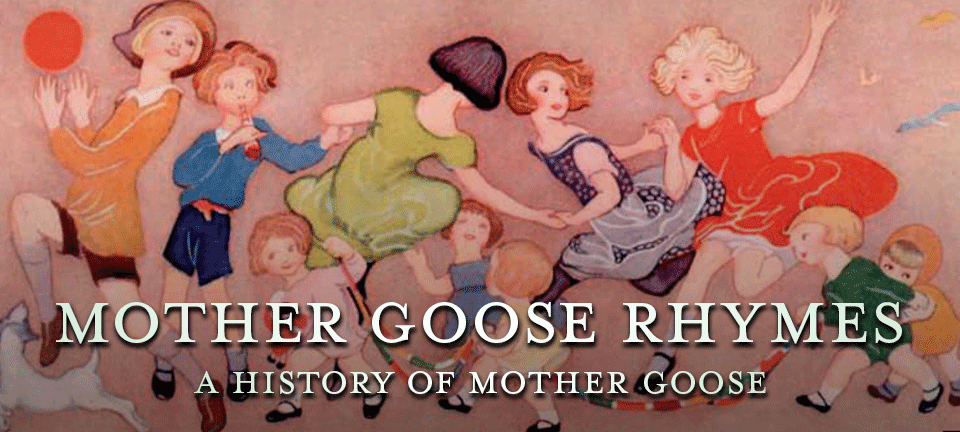 The History of Mother Goose Rhymes
---
Old Mother Goose,
When she wanted to wander,
Would ride through the air
On a very fine gander.
Jack's mother came in,
And caught the goose soon,
And mounting its back,
Flew up to the moon.

The figure of Mother Goose is an imaginary author of a collection of fairy tales and nursery rhymes – often published as Mother Goose Rhymes. As a character, she only appears in one nursery rhyme.
'Mother Goose' is generally depicted in illustrations as an elderly country woman in a tall hat and shawl (a costume identical to the peasant costume worn in Wales in the early twentieth century). But she is also sometimes depicted as a goose (usually wearing a bonnet). She is credited with the Mother Goose stories and rhymes popularized in the 1700s in English-language literature, although no specific writer has ever been identified with such a name.
SELECTED BOOKS
---
Seventeenth century English readers would have been familiar with 'Mother Hubbard', a stock figure when Edmund Spenser published his satire Mother Hubberd's Talein (in 1590). They would also have known similar fairy tales told by 'Mother Bunch' (the pseudonym of Madame d'Aulnoy) in the 1690s. An early mention appears in an aside in a French versified chronicle of weekly happenings, Jean Loret's La Muse Historique, collected in 1650. Loret's remark, comme un conte de la Mère Oye ('like a Mother Goose story') shows that the term was readily understood.
In 'The Real Personages of Mother Goose' (1930), Katherine Elwes-Thomas has argued that the image and name 'Mother Goose', or 'Mère L'Oye' may have been based upon ancient legends. These legends were of the wife of King Robert II of France, known as 'Berthe la fileuse' ('Bertha the Spinner') or Berthe pied d'oie ('Goose-Foot Bertha'). She was often referred to in French legends as spinning incredible tales that enraptured children.
Another, slightly more eccentric theory comes from America – where the original Mother Goose is thought to have been a Bostonian wife of an Isaac Goose. She was either named Elizabeth Foster Goose (1665 – 1758) or Mary Goose (d. 1690, aged forty-two), who is interred at the Granary Burying Ground on Tremont Street. According to Eleanor Early, a Boston travel and history writer of the 1930s and '40s, the original Mother Goose was this lady. She reportedly used to sing songs and ditties to her grandchildren all day, and other children swarmed to hear them. Finally, her son-in-law gathered her jingles together and printed them.
The initiator of the literary fairy tale genre, Charles Perrault (1628 – 1703) published a collection inspired by the old oral traditions of French and European folklore. It was released in 1697, and titled Tales and Stories of the Past with Morals ('Histoires ou Contes du Temps Passé'). It was subtitled Tales of Mother Goose ('Les Contes de ma Mère l'Oye'). Perrault's publication marks the first authenticated starting-point for Mother Goose stories.
In 1729 an English translation of Perrault's collection appeared; Robert Samber's Histories or Tales of Past Times, Told by Mother Goose. This work introduced Sleeping Beauty, Little Red Riding Hood, Puss in Boots, Cinderella and other Perrault tales to English-speaking audiences. The first public appearance of the Mother Goose stories in the New World was in Worcester, Massachusetts. The printer, Isaiah Thomas reprinted Samber's volume under the same title, in 1786.
The name 'Mother Goose' has been associated with children's poetry in England ever since John Newbery's compilation of English nursery rhymes. It was entitled Mother Goose's Melody, or, Sonnets from the Cradle. It was published in 1780/1 by Thomas Carnan and the 'Stationer's Company'. L. Frank Baum (the American author chiefly known for penning The Wonderful Wizard of Oz) also published a collection of twenty-two children's stories based on Mother Goose nursery rhymes (Mother Goose in Prose). This was released in 1897. It was the first ever children's book that he wrote, and also the first book illustrated by the legendary Maxfield Parrish (1870 – 1966).
Many variations on the Mother Goose theme have since been published. They have featured wonderful illustrations by artists such as William Wallace Denslow (for an edition of Mother Goose published in 1901), Henriette Willebeek Le Mair (Our Ould Nursery Rhymes, 1911), Jessie Willcox Smith (Mother Goose, 1914), Blanche Fisher Wright (for Rand McNally's The Real Mother Goose, 1916), Eulalie Minifred Bank (Mother Goose Nursery Rhymes, 1923).
From this time onwards, 'Mother Goose' has captured the public's imagination. She frequently appears in many classic British pantomimes. The transition from a shadowy generic figure to one with such concrete actions was effected at a pantomime Harlequin and Mother Goose: or, The Golden Egg. This was in 1806–07, at the Theatre Royal, Drury Lane (London). It was written by Thomas Dibdin (1771 – 1841), who recreated her more as a 'witch-figure' appearing in the first scene 'raising a storm and flying a gander.'
As a testament to this character's ability to inspire and entertain generations of readers, Mother Goose continues to influence popular culture internationally. The rhymes lend plot elements, allusions and tropes to a wide variety of artistic mediums. The various tales, poems and plays have been translated into many different languages and very excitingly, continue to evolve in the present day.
SELECTED BOOKS
---
Save
Save