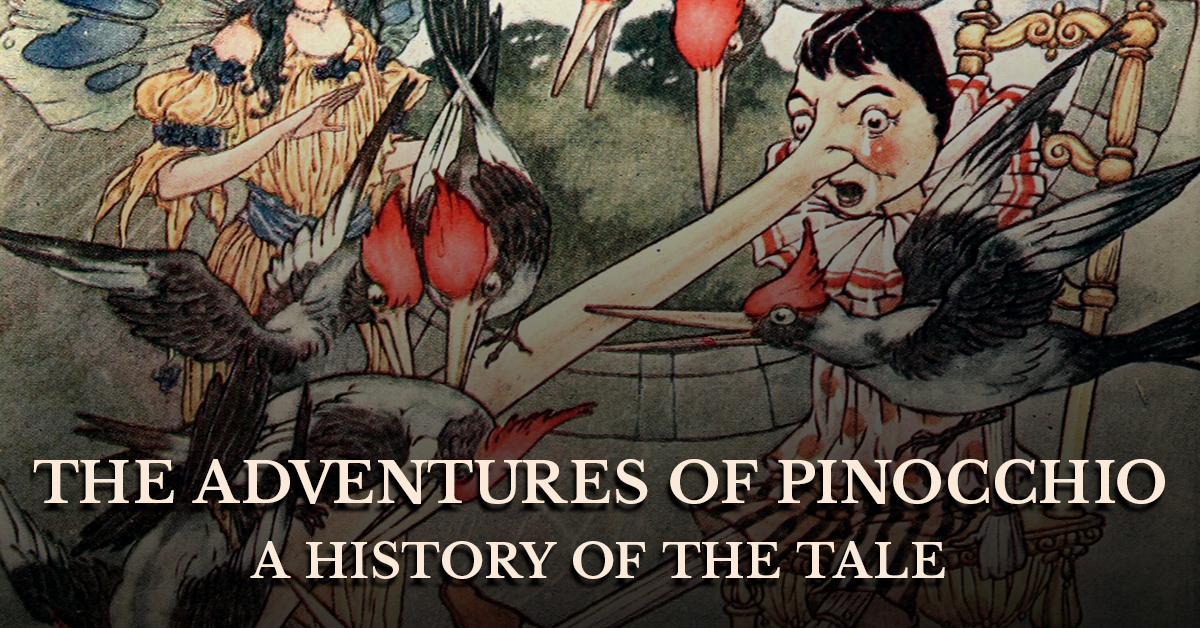 The Original Adventures of Pinocchio – A History of the Tale
---
You may think you know the classic tale of a wooden boy brought to life, but the original fairy tale is much darker than you can imagine.
The Adventures of Pinocchio tells the tale of an elderly woodcarver's marionette magically coming to life. The lonely man is overjoyed at finally having a child of his own, but Pinocchio is an insolent, mischievous puppet. He seems determined to live as selfishly as possible and, in consequence, horrifying punishments lie in wait for him…
I thought I would make a beautiful wooden puppet; but a wonderful puppet that should know how to dance, to fence, and to leap like an acrobat."

The Adventures of Pinocchio was written by the Italian author Carlo Collodi. He was born Carlo Lorenzini in Florence on the 24th of November 1826 to a cook, Domenico Lorenzini, and a seamstress, Angiolina Orzali Lorenzini. His mother, Angiolina, was from the Italian village Collodi, which is where he gained the inspiration for his pen name. 
He spent most of his childhood in Collodi, living with his maternal grandmother. After finishing his education, he began working at a bookstore, Libreria Piatti, in 1844. Part of his work there was to assist an established manuscript specialist, Giuseppe Aiazzi. Collodi was greatly impacted by his time working with Aiazzi, and the manuscript specialist had a large influence on the budding writer. The character of Pinocchio, who Collodi would create many years later, is named in part after Aiazzi. Pino being a shortened version of the name Giuseppino, which Giuseppe is an abbreviation of.
From 1848 until 1860, Collodi voluntarily served in the Tuscan army during the first and second Italian Wars of Independence. In 1856, Collodi began using his pen name and started publishing political periodicals. He began working in children's literature by translating French fairy tales into Italian. For example, in 1875, he completed a collection of translated works by Charles Perrault named I Racconti delle fate. 
Collodi wrote Storia di un burattino (Story of a Marionette), otherwise known as Le avventure di Pinocchio (The Adventures of Pinocchio), in 1880 at the age of 54. The now-famous fairy tale was released weekly in Giornale per i bambini. The story was adapted into an animated film by Walt Disney in 1940, and Pinocchio was the first ever animated film to receive an Academy Award nomination for Best Picture. 
Collodi died before The Adventures of Pinocchio rose to great fame but is now remembered worldwide for giving a wooden boy life.
The Dark Original Tale of Pinocchio
First published in 1883, The Adventures of Pinocchio is one of the greatest works of Italian literature and has been translated into over 260 languages. The fairy tale has seen hundreds of adaptations in literature and for the stage and screen, but the original tale is much darker than most of these family-friendly retellings. Often described as a metaphor for the human condition, Carlo Collodi's iconic story presents our innate selfish desires, with these capricious whims personified in his puppet protagonist. 
Pinocchio is not the joyful, innocent, considerate character that Walt Disney presents him to be in his 1940 animation, Pinocchio. The puppet's insolent, ungrateful, and spoilt behaviour continues throughout the length of Collodi's novel, and as a result, the little puppet is punished in increasingly severe and macabre fashions. His feet are burnt off in front of the brazier, he is kidnapped, starved, and caught in an iron trap. He narrowly escapes being fried in a frying pan and is almost murdered when hanged in a tree. 
Despite these horrific punishments, Pinocchio never seems to learn his lesson and continues to think only of himself and lie his way out of trouble. The moral we all remember from Disney's animation, which is repeated in the 2022 live-action film, is that lying is wrong and will always result in difficulty. Collodi's original fairy tale does feature the famous scene in which the puppet's nose grows each time he lies, but lying is the least of Pinocchio's abhorrent behaviour, and the consequences he faces are shockingly morbid.
At this third lie his nose grew to such an extraordinary length that poor Pinocchio could not move in any direction."
Not only does Pinocchio disobey his father, ignore the Blue Fairy's guidance, and fall into the minacious company of the conniving Fox and Cat, but he also murders the Talking-cricket. Presented in the Disney films as Jiminy Cricket, the embodiment of Pinocchio's conscience, Collodi's talking cricket meets a grisly end after advising the wooden puppet on how to behave properly. Pinocchio flings a hammer at the wise creature, leaving his lifeless body to dry against the wall.
Although the original tale has many a gory detail, Collodi wanted to ensure that the story would serve as a warning to children who behaved in an insolent manner. He had intended for Pinocchio's adventure to end in tragedy and for the puppet to die at the hands of the Fox and Cat before he could ever achieve his dream of becoming real.
Characters and Adaptations of the Fairy Tale
The many retellings of Pinocchio's adventures often feature Collodi's original characters. The wooden puppet protagonist is usually presented as a young boy who has a lot to learn. His name is the combination of two Italian words: pino meaning pine and occhio meaning eye, roughly translating to 'pine head'. Always recognisable as the star of the best-known adaptations of his story, Pinocchio fulfils his dream of becoming a real boy in Disney's 1940 animation, Lionsgate's 2021 Pinocchio: A True Story, and Disney's live-action adaptation, also named Pinocchio. In each version of the fairy tale, the puppet runs away and learns the trials of the real world alone. The evil Fox and Cat commonly appear as the antagonists of the story. Meanwhile, the Blue Fairy and the Cricket act as moral guideposts for the naive Pinocchio.
Woe to those who lead idle lives. Idleness is a dreadful illness and must be cured in childhood. If it is not cured then, it can never be cured." 
The Illustrators of The Adventures of Pinocchio
The Adventures of Pinocchio has inspired many prolific illustrators to capture the fantastical fairy tale in their art. The story has been brought to life by influential artists such as Alice Carsey, C. Mazzanti, and Charles Copeland. The highly talented Maria L. Kirk illustrated an edition of the tale in 1916. She highlights the magnificent imagery in Collodi's writing with her art deco-inspired style and bright colour plates. A 1923 edition of the tale depicts Frederick Richardson's interpretation of the marionette and the prolific illustrator, Charles Folkard, heightens the story's magic in his 1911 illustrations.
Carlo Collodi's Real Life Inspiration and Legacy
Carlo Collodi's father lived in a small Italian village named San Miniato Basso for many years until his son's birth. The village was given its new name in 1924 and is believed to have previously been named 'Pinocchio'. There are many buildings in the village that appear to have influenced Collodi in writing his story, such as Casa Il Grillo or Cricket House.
References to the beloved wooden puppet can now be found across Italy in the form of statues and sculptures. Pinocchio appears in the 1956 bronze Fontana a Pinocchio (Fountain dedicated to Pinocchio) in Milan, there's a metal statue of him in Lake Varese in Lombardy, a 6.53-metre tall wooden statue of him in Turin, and a 15-foot tall statue of him in Collodi, his creator's birthplace.
Carlo Collodi's legacy has even reached as far as outer space. Asteroid 12927 Pinocchio was named after the puppet when it was spotted in the San Marcello Pistoiese Observatory in 1999. It's possible to fully immerse yourself in the fairy tale with a visit to Pinocchio Park in Collodi. There you'll discover the famous characters of the Fox, the Cat, the Whale, and the Blue Fairy while being surrounded by Italy's nature.

---